Textron Aviation is advancing the development of several modifications to the Cessna SkyCourier twin-turboprop for special mission applications which will be installed on a demonstrator aircraft next year.
In addition, the airframer is confident that, by the end of 2023, it will have secured its first order for the new variant.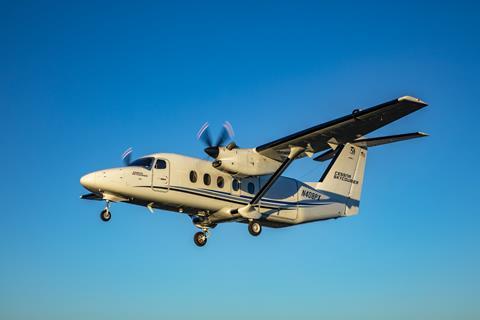 Initially developed for the cargo and commuter airline markets, the 8.6t maximum take-off weight SkyCourier entered service with global logistics firm FedEx last year.
However, the US airframer sees the platform as ideal for military special missions, with potential applications including surveillance, medical evacuation or maritime patrol and has brought a test aircraft, serial number 3, to the Royal International Air Tattoo at RAF Fairford in the UK for its European debut.
Several mission kits are currently in development and will be installed on a demonstrator aircraft next year, says Andrew Pall, regional sales director special missions – Europe.
These include four wing hardpoints: two inboard stations designed for auxiliary fuel tanks and a pair of external sensor stations, capable of carrying 280kg (620lb) and 180kg-plus loads, respectively.
In addition, a retractable electro-optical/infrared sensor pod will be installed in place of the nose baggage compartment. Textron Aviation will also upgrade the starter generators on the Pratt & Whitney Canada PT6 engines to better power the planned mission equipment.
"We are very far along in the engineering and maturation [of these features] and they will be incorporated in a demonstrator aircraft," says Pall.
For the medevac role, the SkyCourier has already been installed with a trio of three-tier LifePort SLS stacking stretchers, plus two critical care berths.
Pall sees the turboprop as capable of performing multiple roles. "What really excites us about this aircraft is that without the seats inside it is a really malleable and reconfigurable piece of equipment that could be deployed for multiple missions," he says.
He says customer interest in the platform has been "incredible" and the airframer is in "very mature discussions with several customers". He expects the first order to be received in 2023.
US civil certification for the SkyCourier was secured in 2022 and the airframer hopes European validation will follow by the end of 2024.