China-backed firm Skyrizon is making a renewed push in its long-running effort to acquire Ukrainian aircraft engine manufacturer Motor Sich, with vocal support from a new local partner.
On 9 September, Beijing Xinwei Technology, Skyrizon's parent, told the Shanghai Stock Exchange that its subsidiary is re-submitting an application to the Ukrainian competition authorities regarding the acquisition, which originated in 2017.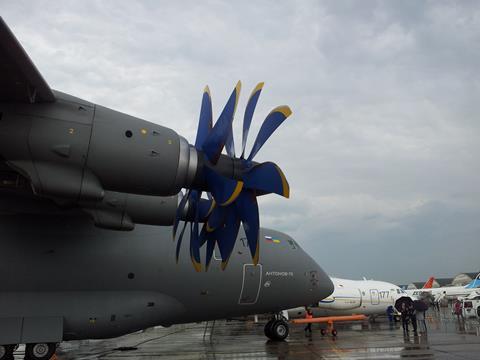 The renewed effort follows a recent agreement between Skyrizon and Ukrainian conglomerate Development Construction Holding (DCH). Should Kiev bless the deal, DCH will control over 25% of Motor Sich's shares and Skyrizon an unspecified number; media reports suggest that Skyrizon has already amassed a stake of around 80% in the engine maker.
According to its website, DCH is involved in a number of business areas including finance, heavy industry, construction and transportation – the company built and runs Kharkov International airport. Alexander Yaroslavsky, president of DCH, is one of Ukraine's wealthiest men.
Skyrizon's interest in Motor Sich has generated controversy because Washington DC is concerned that the firm's aircraft engine capabilities will fall into the hands of Beijing. In late August, US Secretary of State Mike Pompeo raised the issue in a phone call with Ukrainian president Volodymyr Zelensky. Former US National Security Advisor John Bolton has also written that Chinese interest in Motor Sich was a significant issue in his discussions with Ukrainian officials.
Several key Chinese aircraft types, such as the Chengdu J-20 fighter and Xian Y-20 strategic transport, rely on Russian engines. In the commercial sphere, the Comac ARJ21 is powered by the GE Aviation CF34, and the C919 the CFM International Leap-1C.
The appeal of Motor Sich, which has produced aircraft engines since 1917, is clear. In addition to other industrial products, it manufactures a full range of turboprops, turbofans, turboshafts, and auxiliary power units, working closely with Ukraine's Ivchenko-Progress design bureau.
Key engines in its portfolio include the Progress D-18T, which powers the Antonov An-124 and An-225 strategic transports, the Ivchenko AI-25 for trainer aircraft including the AVIC Hongdu JL-8, and the Progress D-436 that equips the An-148 and Beriev Be-200. It also made the Progress D-27 propfans for the An-70 airlifter.
Ukrainian officials have held up the Skyrizon deal for three years, during which time the company's shares have been suspended at the behest of the country's security services. Competition authorities have also withheld their blessing for the Skyrizon takeover.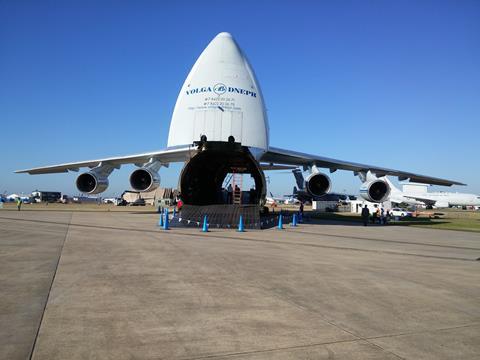 In addition to pressure from the USA, Kiev may also be concerned that Chinese ownership will see the company's technology siphoned off. Skyrizon and DCH, however, deny this suggestion.
In August, Skyrizon chairman Wang Jing issued a statement saying that Skyrizon is determined to invest in the engine maker and keep it in Ukraine.
"The Motor Sich company would not be able to develop new products and projects, as well as save thousands of jobs without our investments," he said. "It has always been a commercial project based on our research on the market demand for products and technologies, taking into account business relationships and goals."
Having DCH as a partner will help Motor Sich "maintain its Ukrainian characteristics", he says, and insists that Skyrizon will use "all legal means to protect our investment".
None of the three key parties in the potential deal – DCH, Skyrizon, and Motor Sich itself – responded to FlightGlobal's requests for comment.
In early August, following news of the Skyrizon partnership, DCH published a slew of statements condemning Kiev for its handling of the Motor Sich affair.
It contends that not only has the long share suspension been unfair to stockholders, but that domestic jobs are being lost and the country's technological edge is being eroded through lack of investment. It alludes to Ukrainian officials being pressured by outside entities, but stops short of naming the USA.
"Motor Sich is in poor financial condition now, its economic and social development has been illegally blocked from 2017 by Ukrainian authorities' actions," says DCH. "As a result, the unique labour collective of the huge enterprise suffers from undeserved hardships."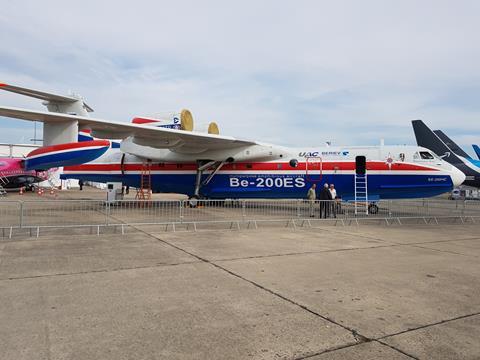 It adds that production volumes at Motor Sich are declining, lay-offs are taking place, and that the business is unprofitable.
DCH says that should the joint bid with Skyrizon win approval, the first major opportunity would be China, where the company's products are well known and where there is a ready market.
"However, we do not plan that the promotion of goods of Motor Sich will be limited to China," says DCH. "With a serious approach to the modernisation of production, there are wide market opportunities, of course, taking into account the restrictions on the supply of goods and services to the Russian Federation, North Korea and Iran."
Washington DC has not shied from airing its concerns about Motor Sich. Still, the one thing it cannot provide is a market for the manufactuer's aviation products, as their Soviet origin virtually precludes Western interest.
Kiev, for its part, is an unenviable position. Thousands of Ukrainian jobs and a core industrial capability could be at risk, but this must be weighed against its relationship with the USA, an important ally against Russia.
Should the Skyrizon/DCH deal go ahead, Chinese capital could provide a new future for Motor Sich. Unfortunately, the geopolitical reality of Sino-US relations, coupled with Kiev's concerns about Moscow, could keep it in limbo for some time yet.

Greg Waldron is the Asia Managing Editor of FlightGlobal, responsible for the team's airline, aerospace, and defence coverage across the region. He has worked at the company since 2009. In the airline space, Waldron has conducted dozens of interviews with airline leaders in the Asia-Pacific. He also covers areas such as MRO and safety. On the defence beat, Waldron has written extensively about the rise of Chinese airpower, as well as broader airpower developments around the region, such as indigenous fighter programmes, and regional acquisitions of foreign equipment. In addition, Waldron writes about commercial helicopters in the region and business aviation. Waldron worked has a freelance journalist with his work appearing in several business publications.