Beijing continues to pressure Taipei with almost daily intrusions involving fighters, bombers, support aircraft, and unmanned air vehicles (UAVs).
Since the beginning of August, China has operated over 1,000 aircraft sorties into Taiwan's Air Defense Identification Zone (ADIZ), according to figures published by Taiwan's Ministry of National Defense (MND).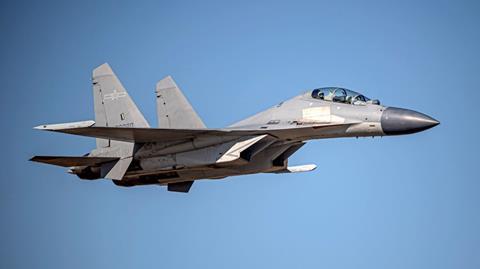 MND figures show that the most frequent ADIZ intruder is the Shenyang J-16, accounting for some 291 incursions since 1 August, followed by the Sukhoi Su-30 (227) and Shenyang J-11 (181). The single-engined Chengdu J-10 is a distant fourth with just 93 ADIZ incursions.
By a considerable margin, August was a major month for ADIZ incursions, with 446 incidents. August's surge followed a visit to Taipei by US House Speaker Nancy Pelosi, which infuriated China and resulted in military drills involving aircraft, ships, and ballistic missiles launched into the sea around Taiwan – some missiles landed in Japan's exclusive economic zone, alarming Tokyo.
Chinese aggression towards independently-governed Taiwan has ramped up in recent years under the regime of Chinese leader Xi Jinping. Beijing feels that Taiwan is a part of China and has not renounced the use of force to unify it with the mainland.
While Taiwan itemises the aircraft type for ADIZ incursions, it frequently detects more aircraft operating beyond its ADIZ.
It also has a stock statement for how it responds: "[Republic of China] armed forces have monitored the situation and tasked [Combat Air Patrol] aircraft, navy vessels, and land-based missile systems to respond to these activities."
The pattern of ADIZ incursions is unpredictable, with varying mixes of aircraft and types. UAVs are being used more frequently, accounting for 5% of total ADIZ incursions since August.
Based on its 30 ADIZ incursions – the most for any Chinese UAV – the Harbin BZK-005 is a key asset. The medium-altitude, long-endurance (MALE) UAV serves with both the People's Liberation Army Navy and People's Liberation Army Air Force.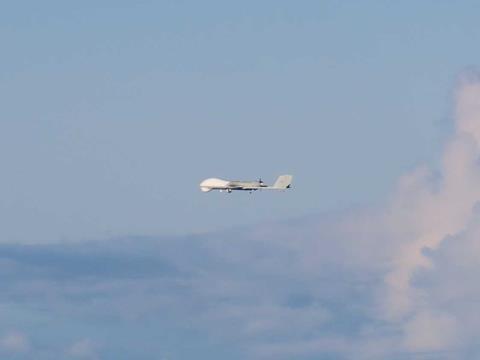 In December, three 24h periods stand out.
Between 06:00 on 12 December and 06:00 on the 13th, 18 Harbin H-6 bombers entered the far southwest of Taiwan's ADIZ. Other ADIZ intruders that day were a single J-11 fighter and two Shaanxi Y-8s, one serving in the reconnaissance role and the other in the anti-submarine warfare role.
Overall, that 24h period saw Taiwan detect a total of 20 People's Liberation Army (PLA) aircraft and three ships. In a conflict, H-6s will play a key role as cruise missile carriers.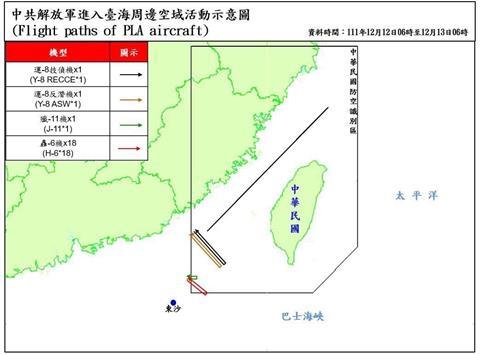 December's second noteworthy ADIZ incursion took place on 21-22 December. Overall, Taiwan detected 39 PLA aircraft and three ships, of which 30 aircraft entered Taiwan's ADIZ.
Of these, 21 were J-16s, which stayed relatively close to the mainland before turning back. Four H-6s and a single Xian Y-20U tanker, however, appear to have flown long-range dogleg pattern that put them well to Taiwan's southeast.
It is not apparent if the H-6 and Y-20U flights occurred simultaneously, and only one variant of the H-6, the H-6N, is known to be capable of air-to-air refuelling.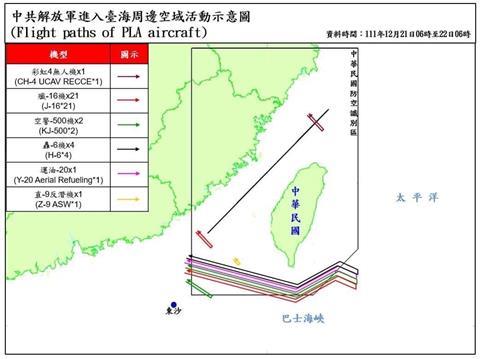 The third noteworthy intrusion occurred on 25-26 December, when 47 Chinese aircraft entered Taiwan's ADIZ. The bulk of this intrusion saw fighters crossing the median line of the Taiwan strait that divides the two countries. Fighter assets used included 18 J-16s, 12 J-11s, six Su-30s and six J-10s.
Y-8 support aircraft and two Chinese UAVs also mounted incursions during that 24h period.
A video posted by China's defence ministry on 25 December, apparently shot from the cockpit of a fighter, appears to show the mountains of Taiwan in the distance.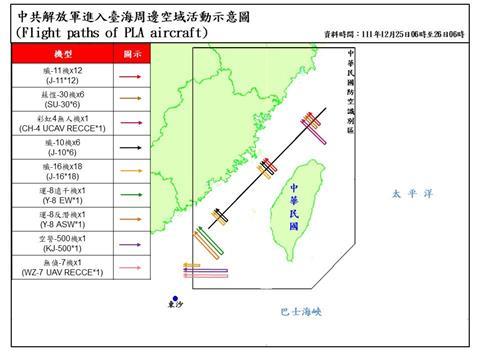 December's big incursions follow continued expression of US support for Taiwan, such as in the recent National Defense Authorization Act.
Curiously absent from any Taiwan ADIZ incursion figures is China's most advanced fighter, the Chengdu J-20. While the US Air Force has encountered the type over the East China Sea, it has yet to make an appearance in the MND's daily intrusion figures.
It is believed that well over 100 J-20s are in service, so the type's apparent absence from activity related to Taiwan is notable.
Similarly, the Y-20U tanker has only made two appearances, once on 6 August and again during the 21-22 December incursions. The type is seen as essential to extending the reach of Chinese airpower beyond the so-called "First Island Chain" that brackets China's Eastern seaboard.
For their part, Japan and the USA, both of which could be dragged into any conflict involving Taiwan, continue to conduct exercises aimed at deterrence.
On 27 December, the US Indo-Pacific Command said a pair of Boeing B-52 bombers arrived at Guam's Andersen AFB for a three-day task force activity. The bombers worked with Lockheed Martin F-22s based in the region, as well as the Boeing KC-46A tanker.
"This was also [the] first integrated, long endurance flight as part of a bomber task force mission for the Air Mobility Command's newly fielded KC-46A Pegasus aircraft, which flew over 42 total hours in support of this mission," says the Indo-Pacific Command.
December also saw the Japan Air Self-Defense Force (JASDF) announce several training efforts with the USA. On 21 December, for example, three JASDF F-35As conducted work with 14 US Air Force Lockheed F-16s and two US Navy Boeing EA-18Gs.