The Chinese government in Beijing is levying sanctions on two American defence executives following recently announced sales of US arms to Taiwan.
China's Ministry of Foreign Affairs (MFA) said on 16 September that the country would sanction Ted Colbert, chief executive of Boeing Defense, Space & Security (BDS), and Gregory Hayes, chairman and chief executive of Raytheon, over their companies' role in the deal.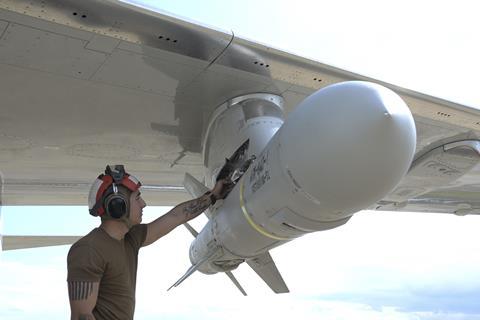 "Arms sales greatly undermine China's sovereignty and security interests, and severely harm China-US relations and peace and stability in the Taiwan Strait," says ministry spokeswoman Mao Ning.
She adds that China "firmly opposes" such arms sales.
This is not the first time authorities in Beijing have sanctioned US defence companies. In February, Raytheon and Lockheed Martin were targeted by China over a missile defence system the two firms agreed to provide to Taiwan.
Neither Boeing nor Raytheon immediately responded to a request for comment.
Beijing regards Taiwan as a breakaway province and has long asserted its sovereignty over the self-governing island. While stopping short of recognising Taiwan as a fully independent country, the USA maintains that the democratically elected government in Taipei has a right to self-rule.
Washington has effectively guaranteed Taiwan's independence since the forces of the Republic of China retreated across the Taiwan Strait in 1949 at the end of China's civil war.
In decades past, the US Navy openly patrolled the strait to deter aggression from the communist People's Republic of China (PRC) on the mainland. Today, the USA tacitly backs Taipei but has not openly committed to defending the island, a policy known as "strategic ambiguity".
However, Washington has approved billions of dollars in arms shipments to Taiwan over the years, including radars, missiles and combat aircraft. In 2020, the US government agreed to sell Taiwan 66 Lockheed Martin F-16 multi-role fighters.
Sanctions on the Boeing and Raytheon executives are unspecified in nature and follow the announcement on 2 September of a nearly $1.1 billion weapons sale to Taiwan.
That deal includes 100 air-to-air AIM-9X Sidewinders made by Raytheon and 60 anti-ship AGM-84 Harpoon missiles built by Boeing. The missile sale is reportedly worth more than $85 million to Raytheon and $355 million for Boeing.
The remaining $665 million will be spent on logistics support to Taiwan's surveillance radar programme, which Raytheon also supports.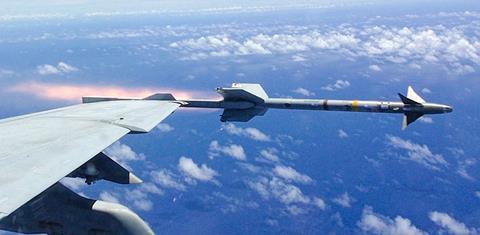 The sale came in the wake of aggressive PRC military drills around Taiwan, following a diplomatic visit to Taipei by US House Speaker Nancy Pelosi in August.
The Biden administration directly tied the arms sale to Beijing's response.
"As the PRC continues to increase pressure on Taiwan, including through an increased air and sea military presence around Taiwan, and engages in attempts to change the status quo across the Taiwan Strait, we are providing Taiwan what it needs to maintain its autonomy," said Laura Rosenberger, senior White House director for China and Taiwan, at the time.
The US Department of State, which approves overseas arms sales, downplayed the significance of the 2 September deal.
"These proposed sales are routine cases to support Taiwan's continuing efforts to modernise its armed forces and to maintain a credible defensive capability," the department said.
While US defence manufacturers have strict rules about doing business in China, both firms have commercial interests in the country's massive civil aviation market.
On 15 September, Boeing chief executive David Calhoun expressed pessimism about the state of Boeing-China relations. He was responding to a question about Chinese airlines refusing to take deliveries of the 737 Max. "The geopolitical situation is rough. It's tough," he says. "I predicted more progress than I have succeeded in getting."
China's airlines have not taken delivery of 737 Max airliners since the type's grounding in 2019, despite deliveries resuming almost everywhere else. The issue comes amid broader trade and intellectual property disputes between the countries.