Beijing's arms build-up and its aggressive foreign policy will only continue to spur airpower improvements among its North Asian neighbours.
The Airshow China 2022 event in Zhuhai was a tour de force of Chinese military capabilities. The Chengdu J-20 was the star of the show, appearing on the static display for the first time. Critically, the aircraft at the show were powered by a local engine, the Shenyang WS-10.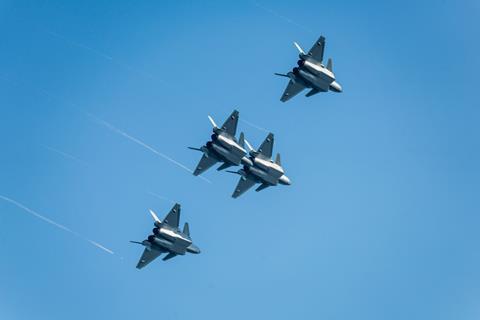 Beijing also used the show to display a plethora of unmanned air vehicles (UAVs), from small drones up to a model of the high-speed FH-97, a clone of the Boeing Australia MQ-28 Ghost Bat. The FH-97's development status is far from clear, but a video at the show suggests it will one day accompany J-20s into combat as a so-called 'loyal-wingman', or attritible aircraft.
Although the show attracted few foreign visitors owing to Beijing's strict zero-Covid policy, images and video from the event flooded social media and enjoyed broad coverage from international news outlets.
Zhuhai's bombast followed a year in which Beijing's military ambitions were abundantly clear. In June, a Shenyang J-16 forced a Royal Australian Air Force Boeing P-8A flying in international airspace to return to base after what Canberra referred to as a "very dangerous" intercept. Australian media reported that the fighter deployed chaff, which was sucked into one of the P-8A's CFM International CFM56 engines.
During the same month, Beijing launched its third aircraft carrier, CNS Fujian. Displacing 80,000t, Fujian will carry a far more potent air wing than China's two in-service carriers, the CNS Liaoning and Shandong.
In August, China conducted aggressive military drills against Taiwan following a visit to Taipei by US House Speaker Nancy Pelosi. The drills effectively closed sea lanes around Taiwan for several days. While the drills have stopped, China continues to mount aircraft sorties in the Taiwan Strait, some crossing the 'median-line' at its centre.
GEOPOLITICAL TENSIONS
Beijing refuses to rule out the use of force to unify Taiwan with mainland China. Given the actions of China's military, the martial rhetoric of the Chinese Communist Party and China's massive arms build-up, North Asia faces geopolitical tensions the likes of which have not been seen since the darkest days of the Cold War.
In this context, governments will continue to beef up their defensive capabilities with an eye to deterring Beijing. The year 2023 should see Taiwan complete a major upgrade of 140 Lockheed Martin F-16A/Bs to the F-16V standard, which includes an active electronically scanned array (AESA) radar in the form of the Northrop Grumman APG-83, as well as several other improvements.
Taiwan could also start receiving 66 new F-16Vs in 2023, according to a report in the state-run CNA news outlet, quoting the country's air force.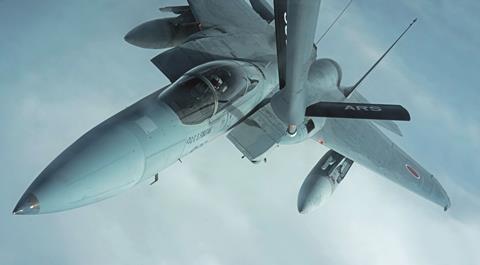 Japan, which could find itself embroiled in any conflict involving Taiwan, has a programme under way to upgrade 70 Boeing/Mitsubishi F-15Js to a new 'Japanese Super Interceptor' standard. In addition to a new AESA radar and other systems, the jets will get a new cockpit and updated weapons capabilities. Japanese media outlets have suggested that the upgrade could even provide the fighters with an anti-ship capability in the form of the Mitsubishi ASM-3 missile – cost concerns saw the US-made Lockheed AGM-158 JASSM cut from the original programme.
Tokyo will also continue work on its Future Fighter programme to replace its Mitsubishi F-2s in the 2030s. In December 2022 it signed up to a Global Combat Air Programme with Italy and the UK, to deliver a Tempest fighter from 2035.
The trilateral effort will also be of intense interest for the USA, which wants the new platform to be interoperable with US forces.
Tokyo will also continue adding Lockheed F-35s. Cirium fleets data shows the Japan Air Self-Defence Force operates 27 F-35As, with commitments for 77 more. It has also ordered 42 F-35Bs, the short take-off and vertical landing variant, which will one day operate from two Japan Maritime Self-Defense Force flat tops, the JS Izumo and JS Kaga.
TESTING TIMES
South Korea, eyeing the danger posed by North Korea, will continue testing its new Korea Aerospace Industries KF-21. The type had its first flight in July 2022 and a second prototype took to the air four months later.
China's arms build-up is also driving defence acquisitions in the USA, including serious work on attritible aircraft that can operate in the Asia-Pacific region, as well as upgrade work for existing programmes. Similarly, Australia is beefing up its air force in several areas.
In the 2020s, the greatest geopolitical challenge facing the USA and its allies is deterring China from trying to unify Taiwan by force. Advanced, interoperable allied airpower will play a key role in achieving this objective.