China's August 1st display team has made its first public performance using the Chengdu J-10C fighter powered by an indigenous engine.
The team made its debut with the most advanced J-10 variant at the Langkawi International Maritime and Aerospace Exhibition (LIMA) event in Malaysia.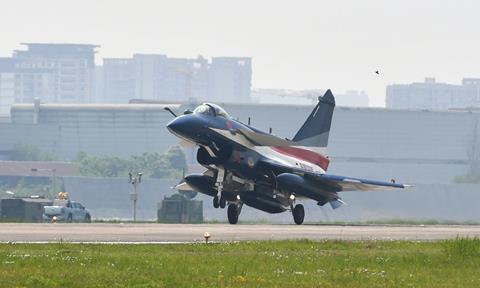 The team has appeared at LIMA before, but using J-10As powered by the Russian-built Saturn AL-31FN. The J-10C is powered by a single Shenyang WS-10B Taihang engine.
According to Chinese state media, the aircraft is optimised for display work. Visually, it has one notable difference from baseline J-10Cs, in the form of an enlarged dorsal spine. In the Lockheed Martin F-16 Block 50/52+ – the F-16 is roughly analogous to the J-10 – the larger spine accommodates additional avionics.
The August 1st team dates back to 1962 and its name commemorates the anniversary of the foundation of the People's Liberation Army in 1927. Starting out with Chengdu JJ-5s, the August 1st later changed to the Chengdu J-7EB, J-7GB and, from 2009, the J-10.
Also appearing at this year's LIMA show are the Republic of Korea Air Force Black Eagles flying Korea Aerospace Industries (KAI) T-50Bs. Malaysia is an important destination for the Black Eagles because in February Kuala Lumpur selected the T-50's light combat variant, the FA-50, to fill its Fighter Lead In Trainer-Light Combat Aircraft (FLIT-LCA) requirement for 18 aircraft.
Other teams appearing in the flying display are Indonesia's Jupiter team flying KAI KT-1B turboprops and the Al Fursan team of the United Arab Emirates flying Leonardo MB-339As.
Despite the dismal performance of the Russian air force during the war in Ukraine, the Russian Knights team, flying Sukhoi Su-30SMs, was still able to come to LIMA and participate in the flying display.