The Chengdu J-20 fighter may have flown a maiden sortie with the developmental Xian Aero Engine WS-15 Emei powerplant, according to Chinese social media.
Low-quality video footage on Weibo shows a J-20 in yellow factory primer taking off with its afterburners engaged, accompanied by commentary stating that the jet is powered by the WS-15. The event apparently took place on 29 June.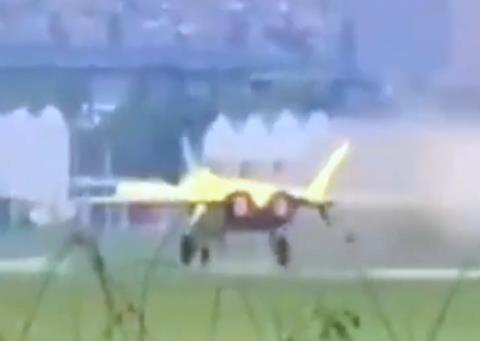 A sharper image of the twin-engined jet that reveals details of the engine's exhaust petals has yet to emerge. Saw-toothed exhaust petals are the principal way to distinguish between WS-10 powered J-20s and those powered by Russia's Saturn AL-31FN.
Highlighting the challenge of monitoring China's military developments, a high-resolution picture supposedly showing the WS-15 powered J-20 in flight was discredited as fake.
Online commentary suggests the new engine lacks thrust vectoring, long seen as a feature that will make its way into the J-20. Speculation on Chinese defence sites suggests that this could be added later.
Though details about the WS-15 are scarce, it is understood to be the ultimate engine for the J-20. Estimates suggest that the WS-15's maximum thrust will be 18.4t (180kN), a considerable upgrade over 15t for the WS-10.
The WS-15's greater power is seen as enhancing the J-20's manoeuvrability and possibly providing a 'super cruise' feature, whereby the fighter can exceed supersonic speeds without engaging its afterburners. Presumably, the engine will also offer enhanced electrical production to power advanced sensors and provide cooling.
Despite the secrecy around the flight, the WS-15 is clearly a priority for China's aerospace sector. In March, footage appeared on social media in which an Aero Engine Corporation of China official hinted that production of the WS-15 had commenced.
In November 2022, in its annual report on China's military, the US Department of Defense noted that production J-20s were being equipped with the WS-10. It also stated that work was underway to give the J-20 thrust vectoring and equip it with the higher thrust WS-15.