Footage has emerged of China's new Xian Y-20U tanker aircraft working with a Chinese fighter.
The short video shows what appears to be a Y-20U with either a Shenyang J-11 or J-16 fighter just behind its left wing. The Y-20U variant is distinguished by under-wing refuelling pods located between the jet's wingtips and outboard engines.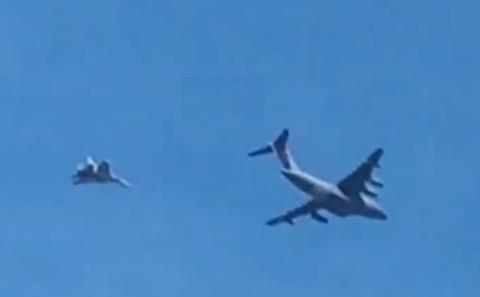 The video originally appeared on Chinese social media, and was posted by defence observer Deino Rupprecht on his Modern Chinese Warplanes Facebook page.
While Beijing has given considerable exposure to its Y-20A strategic transport – on which the tanker variant is based – little is known about the Y-20U. There is speculation that one or two examples may already have entered service with the People's Liberation Army Air Force (PLAAF).
Air-to-air refuelling capacity is seen as a weakness for the PLAAF, which operates just 24 Harbin H-6Us and a trio of Ilyushin Il-78s in the tanker mission.
Improved tanking capacity would greatly enhance the effectiveness of new types such as the H-6N – the first H-6 bomber variant with a refuelling probe – and the developmental Xian H-20 bomber. In addition, Chinese fighters are equipped with air-to-air refuelling probes.
A more pressing area of interest in relation to the Y-20 family is its powerplant. Existing examples of the Y-20 are powered by four Soloviev D-30KP-2s, but China is working on a more efficient high bypass engine, the Shenyang WS-20.
Grainy images of Y-20 prototypes supposedly equipped with the WS-20 appear from time to time, but it is difficult to ascertain whether they are genuine.
In addition to the Y-20U, Beijing is understood to be developing an airborne early warning and control variant tentatively designated KJ-3000.