Saab's proposed Gripen E/F and GlobalEye package for Finland will help Helsinki transform its air-defence capabilities and drive even closer defence links with its Nordic neighbour, Swedish officials have said.
"The defence cooperation between Sweden and Finland is now more ambitious and more extensive than ever… including [at the] political, strategic, operational and tactical level," says Swedish defence minister Peter Hultqvist. "The interoperability between our armed forces is improving day by day. It is clear that we act together, [and] the current acquisition of new fighter aircraft under the HX programme creates far-reaching opportunities for further cooperation and integration."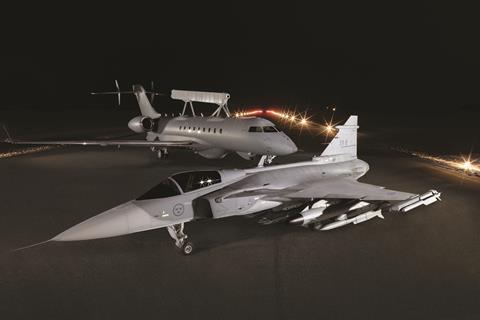 Speaking during a media presentation on 16 February, Hultqvist said a selection of the Saab package will strengthen what he describes as "a historical new normal in our relationship".
"Geographic and military strategic realities underscore the need for continued and deeper cooperation," he says. "Enabling joint actions in case of crisis when there is a threat of war, or a war, is an important goal. Air defence is a vital part of this."
Hultqvist also points to Stockholm's recently approved defence bill for the 2021-2025 period, which includes a proposed 40% increase in overall spending. Identified requirements include acquiring replacements for the Swedish air force's current two Saab 340 airborne early warning and control system aircraft, and he identifies this need as offering a direct link to the Finnish contest.
"If Finland decides to procure Gripen and GlobalEye, it opens up for a harmonised acquisition and common further development between our countries," he says. "We haven't made any formal decision to procure GlobalEye, but that is how it should be interpreted," Hultqvist adds, noting: "[it] is a Swedish product, very well developed and world-class."
Brigadier General Anders Persson, deputy commander of the Swedish air force, points to existing operational synergies with the service's Finnish counterpart.
"The Gripen is designed for our common environment, our common enemy and with our people in focus," he says. "We have the same threat situation, we have chosen the same tactics, with dispersed basing and conscript [support] services. Working that together could be the force multiplier that is needed to be able to meet an enemy who has more aircraft than we have – we need to be smarter, together."
Persson says that by operating the same fighter type, the nations would also benefit from pooled spares, common logistics and harmonised training.
"More or less we will be together as one air force; a common customer when we meet Saab in discussions for our future development," he says. "And we will together be the biggest [Gripen] customer, instead of being one of the smaller customers with a bigger manufacturer."
Magnus Skogberg, Saab's Gripen campaign director for Finland, says agreements have already been reached with nine companies in the country, and that 20 will be involved in direct industrial participation across more than 50 projects.
To include Insta and Patria, such work would involve parts production and potentially local assembly of aircraft and engines. This would support the development of in-country MRO knowledge, and "strengthen the Finnish defence industrial base", he adds.
"When we work with industry in another country we are not talking about support, repair and overhaul only," says Saab chief executive Micael Johansson. "We are talking about knowledge transfer, technology transfer and working together upgrading the system. There are no black boxes – we will be completely open with the information that we transfer."
Finland has requested that bidders for its €9.4 billion ($11.4 billion) HX requirement submit best and final offers by 30 April, ahead of a selection decision late this year. Helsinki is also assessing the Boeing F/A-18E/F Super Hornet and EA-18G Growler, Dassault Rafale, Eurofighter Typhoon and Lockheed Martin F-35A as potential replacements for its current F/A-18C/Ds.
The new type should be introduced to service from 2025.
Sweden has ordered 60 Gripen Es, and also plans to continue operations with around 40 of its current C/D-model examples until 2035.