Collins Aerospace has completed flight integration for the MS-110 long-range reconnaissance pod aboard the Lockheed Martin F-16 fighter, clearing the system for service entry.
The MS-110 Multispectral Airborne Reconnaissance System first flew on an F-16 belonging to an "undisclosed international customer" in July 2022, says the RTX unit.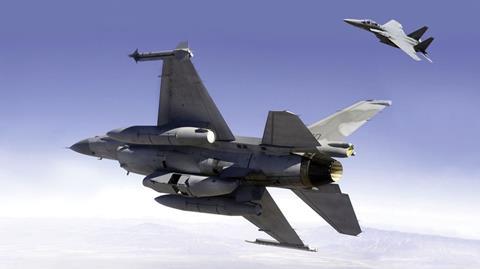 The campaign involved flight tests and ground activities. Collins Aerospace will deliver 16 MS-110s to "international fast-jet operators", and is in contractual discussions with 13 other customers.
"With MS-110 development and integration completed, the critical intelligence made available by the system can be rapidly rolled out to support multi-domain efforts," says Andy Hunter, director and general manager, Intelligent Sensing for Collins Aerospace.
"The extension and expansion of an Indefinite Delivery, Indefinite Quantity contract with the US Air Force Foreign Military Sales organisation will be a major factor in accelerating production and improving system affordability."
One country associated with the MS-110 is Taiwan. In July 2021 the official Focus Taiwan news outlet reported that the Ministry of National Defense had confirmed an order for six MS-110s. This followed an October 2020 Foreign Military Sales case from the US government for the six pods.
The pod, which is based on the earlier DB-110, can be flown aboard the Boeing F-15, F-16, and business jets modified for intelligence, surveillance and reconnaissance work. It can also equip unmanned air vehicles such as the General Atomics Aeronautical Systems MQ-9 Reaper.
Taiwan operates the F-16, and is also acquiring four MQ-9Bs.
At the Singapore Airshow in February 2022, Collins Aerospace executive Richard Jerome had this to say about the MS-110: "By definition, you can scan multiple bands in the spectrum, and have the ability to superimpose images from different parts of the spectrum, to get a better definition and better view of what's out there."
Crucially, the sensor has a high-speed data link capability, helping militaries shorten kill chains.