The Afghan military's almost instant capitulation when faced with a resurgent Taliban has created a major headache for the USA and its allies, with almost 300 military aircraft potentially at risk of falling into enemy hands.
Images circulated on social media show Taliban militants standing alongside a variety of Afghan air force hardware that had been transferred to the government in Kabul by Washington over recent years. This includes Sierra Nevada/Embraer A-29 Super Tucano armed turboprops, MD Helicopters MD530 light-attack rotorcraft and Sikorsky UH-60A Black Hawk transports.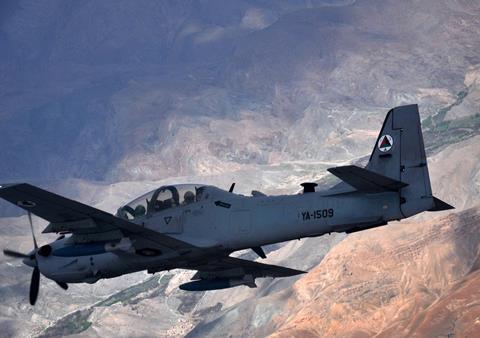 Cirium fleets data shows that prior to the Taliban fully retaking control of Afghanistan on 15 August, the nation's air force and Special Mission Wing had a combined total of 284 aircraft in active use.
Washington's efforts to re-equip the Afghan military had resulted in an inventory boasting 25 A-29s, 74 MD530s and 11 Black Hawks, along with four Lockheed Martin C-130H tactical transports, 34 Cessna 208B Caravan turboprops, including armed examples, and 18 Pilatus PC-12NGs.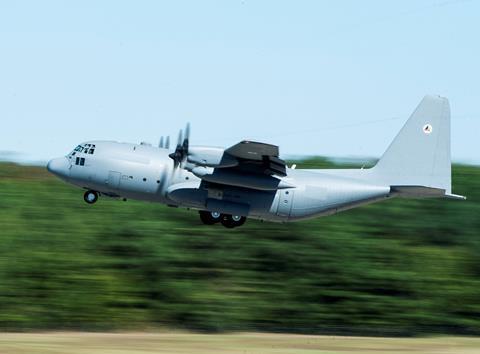 Some 95 Mil Mi-8/17-series transport helicopters made up one-third of Afghanistan's military aircraft, with eight armed Mi-24s also in its fleet, Cirium data shows. The remainder includes 10 Bell UH-1 transports aged up to 53 years, a trio of Aerospatiale SA315 light rotorcraft and two Harbin Y-12 transports.
The current picture is unclear, however, with reports indicating that multiple military aircraft were flown from Afghanistan prior to the government's collapse. This exodus also included President Ashraf Ghani fleeing the country.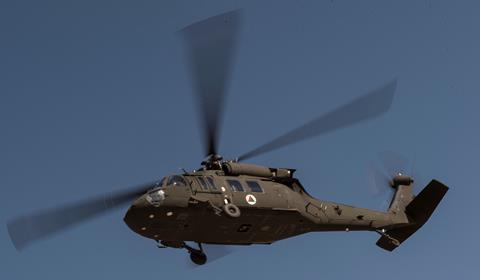 "Between 14 and 15 August a large number of Afghan air force aircraft and helicopters were flown by 'escaping aircrew' to Termez, Uzbekistan," Cirium says.
On 15 August, an Afghan A-29 crashed near Sherabad, 32nm (60km) north-northwest of Termez, following a mid-air collision with an Uzbekistan air force RAC MiG-29.
"Both aircraft subsequently crashed but the crews ejected safely," a Cirium accident report says, noting that the Super Tucano was one of three directed to land in Termez.
Data from Flight International's annual World Air Forces directories highlights how Kabul's air capabilities have evolved over time.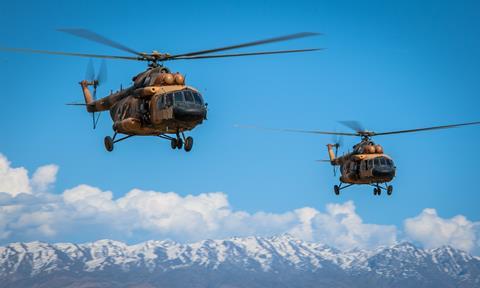 In 2008, the then-Afghan National Army Air Corps had just 62 aircraft in use: seven Antonov An-32 and two An-26 transports, 29 Mi-8/17s, 12 Mi-24/35s, nine UH-1s and three Aero Vodochody L-39 jet trainers.
The following year, the first of 18 second-hand Alenia Aeronautica G222/C-27JA airlifters began providing a brief uplift in tactical transport capabilities, with the fleet growing to a dozen examples by 2011. However, support problems saw the type withdrawn from use before our 2014 report was compiled.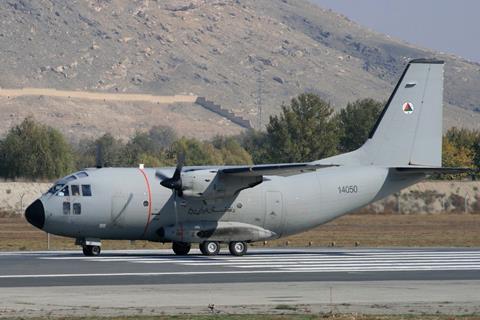 In an early August report, the US Department of Defense's (DoD's) Special Inspector General for Afghan Reconstruction notes: "In 2008, the DoD spent $549 million to provide the Afghan air force with G222 military transport planes, a variation of an aircraft that the US Air Force itself had retired almost 30 years earlier because replacement parts were hard to find.
"By 2014, the DoD again came to the same conclusion – and the G222 planes it had delivered to Afghanistan six years earlier were unceremoniously sold for only $40,257, as scrap metal," it adds.
During the re-equipment process, many Afghan air force personnel were trained at locations in the USA and the UK. Latterly, as NATO-led forces drew down their combat involvement in the country, the service gained the ability to lead some operations against the Taliban.
Following a review of the service's capabilities, the US DoD in January 2020 reported: "The Afghan air force continues to show steady improvement in pilot skill, ground crew proficiency, and air-to-ground integration".
"[It] can independently plan and provide air assets for logistics, resupply, humanitarian relief efforts, return of human remains, Medevac, casualty evacuation, non-traditional ISR [intelligence, surveillance and reconnaissance], air interdiction, close air attack, armed overwatch, and aerial escort missions," the DoD added.
However, once faced with an advancing Taliban after the departure of most military personnel from its supporting partners, the bolstered Afghan air force was simply not up for the fight.
What happens now to those aircraft which remain on the ground at air bases such as Bagram, Herat, Kabul, Kandahar and Mazar-i-Sharif is far from clear. Social media rumours suggesting that US Air Force Boeing B-52 bombers were en route to destroy such equipment failed to be matched by real world action, and the immediate departure of skilled support personnel – and pilots – is likely to see most assets remain grounded.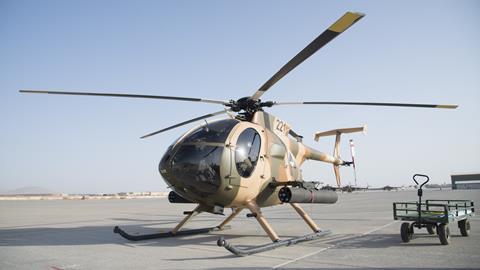 However, the prospect of Taliban commanders having de facto ownership of modern military aircraft – and the potential to grant access to them to non-approved parties, such as China – means that the US government must act fast to reduce the risk of technological know-how being leaked to what are already far more capable adversaries.