Northrop Grumman incurred charges totalling $93 million against the Lockheed Martin F-35 programme last year, due to reduced sales and pandemic-related business effects.
Largely affecting the company's Aeronautics Systems business unit, the sum was the result of an "unfavourable estimate-at-completion adjustment", it disclosed within its 2021 annual results on 27 January. It attributes the shortfall to "continued labour-related production impacts largely driven by Covid-19".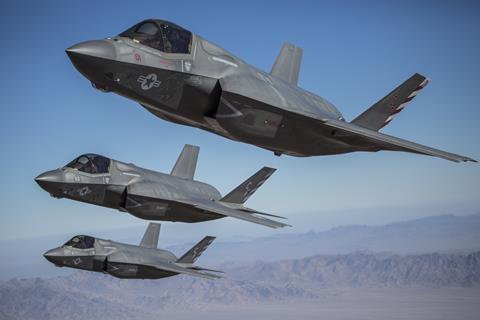 Northrop is a production partner on the fifth-generation fighter programme, and manufactures the type's centre fuselage in Palmdale, California.
"During the fourth quarter of 2021, we modified our F-35 production plan to support a more consistent flow on the programme and expect gradually to increase production rate over time as Covid-19-related impacts subside," the company says.
"The Covid pandemic continued to present challenges to [Northrop and supplier] labour availability, parts supply and shipping delays, particularly in the second half of last year," chief executive Kathy Warden said during a results call.
Absence rates on the "high-rate, high-volume" F-35 production line increased as a result of both the Delta and Omicron variants of Covid-19, and the company's associated staff isolation procedures, Warden says. "We will continue to take proactive steps to address such Covid risks to our employees and our business," she adds.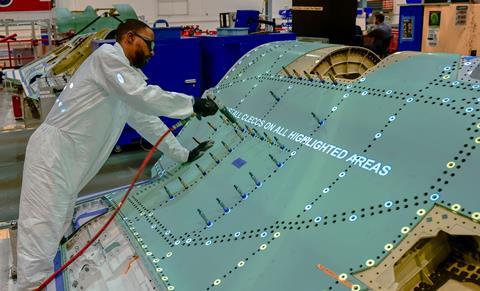 Northrop reported total sales worth $35.7 billion in 2021. This marked a 3% reduction from almost $36.8 billion the previous year; a performance which positioned it in fifth place in our latest ranking of the Top 100 aerospace companies.
The company says it received F-35-related contracts worth $2.2 billion for the full year in 2021, along with $400 million on the E-2A Advanced Hawkeye airborne early warning and control system aircraft programme and $300 million on the RQ-4 Global Hawk/Triton high-altitude, long-endurance unmanned air vehicle.
It also secured business worth $6.1 billion "for classified programmes" across its Aeronautics, Mission Systems and Space Systems units.
The company did not provide any update on the status of its B-21 strategic bomber programme for the US Air Force, which remains a classified activity. The service late last year disclosed that five text examples were in assembly in Palmdale, with first flight expected before the end of 2022.
Warden acknowledges that Northrop is experiencing "headwinds" due to declining business on "maturing" programmes such as the Global Hawk and in support of Boeing's F/A-18E/F Super Hornet, but believes that new opportunities – such as requirements for next-generation manned aircraft and unmanned systems for the US Department of Defense – will move it beyond such challenges from around 2024.
Meanwhile, Warden reveals that the company's Mission Systems unit received a roughly $200 million contract in the last quarter of 2021 related to accelerated production of APG-83 SABR active electronically scanned array (AESA) radars for integration with Lockheed F-16s. No further details were disclosed, but media outlets in Taiwan recently reported that Taipei's acquisition of new-build F-16V fighters was being brought forward.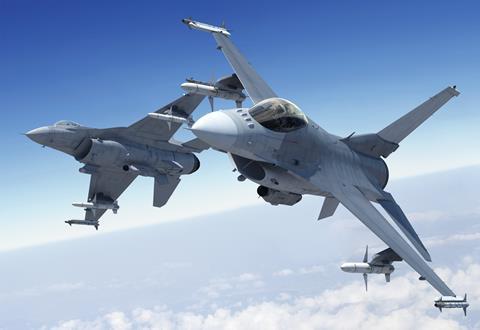 Northrop has now secured orders for nearly 1,000 of the AESA sensors from the US Air Force, Air National Guard and several international buyers, she says.