Prague has approved a planned purchase of 24 Lockheed Martin F-35A combat aircraft, valuing a deal as to be worth $5 billion between 2024 and 2034.
Announced on 27 September, the decision firms an earlier declaration of interest in acquiring the F-35 for the Czech air force.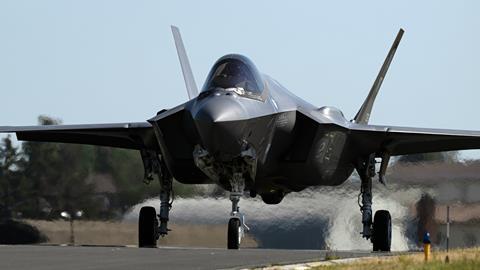 "When starting negotiations last year, we set the condition that we want to negotiate industrial co-operation options, to take advantage of the opportunities for the Czech defence industry to cooperate with technological giants such as Lockheed Martin and Pratt & Whitney," says defence minister Jana Cernochova.
"We have prepared 14 industrial co-operation projects for Czech companies in the next few years, including the possibility of direct involvement in the global supply chain for the F-35," she adds.
"We are honoured the government of the Czech Republic chose to become part of the global F-35 Lightning II programme, joining several European nations in further strengthening global airpower and 21st Century security," Lockheed says.
"Our partnership with Czech industry will deliver benefits in research and development, manufacturing and sustainment," the company adds.
"The F-35's growing presence across Europe is a powerful example of alliance-based deterrence and is setting the foundation for NATO and allied nation's next generation air power capability," says Lockheed.
The US Defense Security Cooperation Agency had in late-June detailed a prospective Foreign Military Sales deal with the Czech Republic as worth up to $5.6 billion, also including weapons, related equipment, training and support services.
Prague expects to take delivery of its first F-35s "at the beginning of the next decade". It indicates that it will continue operating its leased Saab Gripen C/Ds until 2035, by which time its incoming fighters will achieve full operational capability.
The Czech air force currently flies 14 Gripens, via a long-running arrangement with Sweden's Defence Materiel Administration. That arrangement is understood to currently be contracted until 2027.

Craig Hoyle joined Flight International in 2003, and has edited the now monthly title since 2015. He has reported on the UK, European and international military aviation sector for more than 25 years, and produces our annual World Air Forces directory.
View full Profile