Prague has moved a step closer to potentially acquiring Lockheed Martin's F-35 fighter, after the US Department of State gave its approval to a proposed Foreign Military Sales deal worth an estimated $5.6 billion.
Detailing the development on 29 June, the US Defense Security Cooperation Agency (DSCA) said the Czech Republic could acquire 24 F-35As, along with an associated package of weapons and related equipment.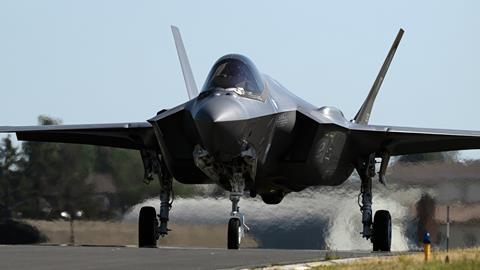 The proposed deal includes the conventional take-off and landing variant aircraft, plus one spare Pratt & Whitney F135 engine.
Armaments would include a Raytheon-supplied package of 70 AIM-120C-8 Advanced Medium-Range Air-to-Air Missiles and 50 AIM-9X Block II/II+ Sidewinder air-to-air missiles, plus 86 GBU-53/B StormBreaker precision-guided bombs. The package also would include Boeing Joint Direct Attack Munition (JDAM) tail kits to equip an initial dozen 907kg (2,000lb) general purpose bombs.
"The proposed sale will improve the Czech Republic's defence capabilities, as well as support NATO operations by guarding against modern threats and maintaining a constant presence in the region," the DSCA says.
Prague last October submitted a letter of request related to a 24-aircraft acquisition, after its defence ministry identified the fifth-generation type as its preferred future fighter. At that time, it set a deadline of 1 October 2023 to decide on whether to proceed with a purchase.
The Czech air force currently operates 14 Saab Gripen C/Ds via a long-term lease agreement with Sweden.
Speaking earlier this year, Saab chief executive Micael Johansson said the company was discussing a possible Gripen lease extension with Prague, with the current arrangement to run until 2027.

Craig Hoyle joined Flight International in 2003, and has edited the now monthly title since 2015. He has reported on the UK, European and international military aviation sector for more than 25 years, and produces our annual World Air Forces directory.
View full Profile