The USA has successfully tested another experimental hypersonic weapon, continuing a string of positive results for the Pentagon's numerous programmes to develop the ultra-high-speed capability.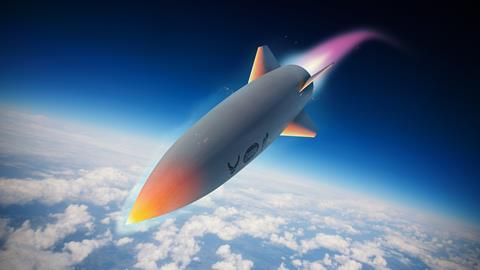 Lockheed Martin said on 30 January it had successfully completed the second test flight of the vehicle known as the Hypersonic Air-breathing Weapon Concept (HAWC), reaching speeds exceeding Mach 5.
After launching from a US Air Force (USAF) Boeing B-52 bomber, the HAWC travelled more than 300nm (556km) at altitudes exceeding 60,000ft. Aerojet Rocketdyne makes the system's scramjet engine that enables hypersonic flight.
"Affordability and reliability are essential as we work to develop operational hypersonic solutions," says John Clark, general manager of Lockheed's Skunk Works technology development division. "Both of our HAWC flight tests launched from an operational aircraft and matched performance models and predictions to aid affordable, rapid development of future hypersonic weapons."
Lockheed says Skunk Works and Aerojet Rocketdyne prioritised low-cost advanced manufacturing technologies and "extreme durability" to reduce the HAWC programme's cost. The company says its team "validated that hypersonic systems can be produced affordably at the rates required to meet the urgent national need".
Lockheed is developing HAWC in partnership with the US military's secretive research branch, the Defense Advanced Research Projects Agency (DARPA). Separately, the company is developing an alternative hypersonic cruise missile for the USAF known as the Air-launched Rapid Response Weapon (ARRW).
Lockheed last December successfully tested a fully assembled prototype of that system for the first time.
The string of successful tests is a needed boost to the USA's hypersonic development effort, which in 2021 suffered multiple failed test launches.
Successful hypersonic tests by the Chinese military at the time led US Army General Mark Miley, chairman of the Joint Chiefs of Staff, to liken the situation to a second "Sputnik moment" for the USA.
In response, the Pentagon has poured money into hypersonic development efforts, funding research programmes in the defence industry, academia and private start-up ventures.
In addition to the ARRW and HAWC programmes, the USAF awarded a hypersonic development contract to a joint team of Raytheon and Northrop Grumman last September. That initiative, known as the Hypersonic Attack Cruise Missile, also aims to deliver an air-breathing, scramjet-powered weapon system.
Boeing and Lockheed both bid unsuccessfully for the programme.
On top of the dedicated weapons programmes, the USAF is funding general research into hypersonic engines. The service and its research wings have provided funding to the UK's Reaction Engines, California-based Stratolaunch and Atlanta-based Hermeus.
The Pentagon also recently inked a $334 million deal with Virginia-based manufacturer Leidos to produce a "larger class air-breathing hypersonic system capable of executing multiple missions".
That system – known as Mayhem, according to the Department of Defense – will boast the ability to carry multiple sensor and weapons payloads, and is scheduled for delivery by 2028.