Dassault Aviation chief executive Eric Trappier has delivered a stinging rebuke to Airbus over contract signature delays relating to the tri-national Future Combat Air System (FCAS) programme.
Presenting Dassault's full-year results on 4 March, Trappier pulled no punches: an agreement was reached last year with France's DGA military procurement agency on the scope of the planned Phase 1B work, he said, but it has yet to be signed off due to foot-dragging by its partner.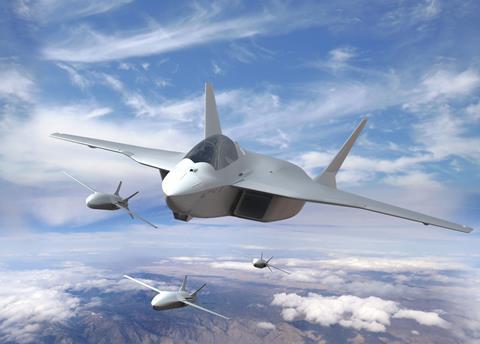 "We are waiting for Airbus to sign the contract with us which is not the case right now," he says.
"We have done everything possible to sign with Airbus and I'm waiting for their signature."
Phase 1B work is designed to pave the way for the construction of a demonstrator of the New Generation Fighter (NGF) in Phase 2, ultimately leading to an aircraft being fielded from 2040.
Dassault is ready to commence Phase 1B activities, says Trappier, but the delay in finalising the contract has seen the manufacturer redeploy staff allocated to the project. "I cannot have my engineers remain idle," he says.
Those workers can be re-allocated to the development when required as "they are eager to design the NGF demonstrator", he says.
"In 2022 we will have to make a decision; we cannot wait with our pen in our hand over a blank page.
"We have to come to a solution because it is a problem that needs to be settled between the industrial [partners] and the states involved."
FCAS began as a joint programme between France and Germany, with Spain subsequently joining the effort. But while the nations may be broadly in agreement, the programme has been plagued by tensions between the industrial partners, particularly Dassault and Airbus Defence & Space.
Dassault is leading the development effort of the manned NGF, and strongly believes it should also be in charge of work on the flight controls due to their relationship with the airframe, and its in-house expertise.
While this "resulted in difficult negotiations", he felt any lingering issues had been resolved. "I thought this [tension] was history," he says.
Describing Dassault's role as prime-contractor on the NGF work as a "red line that cannot be crossed", Trappier says any move towards dilution of its position will be resisted: "I will not go for it. It would be lying to the armed forces to say we have a co-development with no leader."
That does not mean Dassault is "excluding others" from work packages related to the flight controls, he says, noting the potential for involvement from German companies like Airbus Defence & Space or Hensoldt.
"As far as I am concerned there are no problems with the flight control [development] – the problem is on the other shore of the Rhine river," he says.
He contrasts the situation on FCAS with that of the four-nation EuroDrone programme where "we have accepted that Airbus will be a leader".
"We would like Airbus to let us be a leader on [aircraft development]," he says, which will avoid "any overlap on capacities".
Although Indra is leading the overall Spanish contribution to the FCAS programme, Airbus Defence & Space also represents Madrid's industrial interests as well as those of Germany. Trappier argues that should the NGF move to the manufacturing stage then Dassault will end up with one-third of the work compared with two-thirds for Airbus.