Dassault chief executive Eric Trappier has expressed his concern that German reluctance to sanction arms exports to certain countries will hamper the success of the trinational Future Combat Air System (FCAS).
The French airframer, alongside Airbus and Indra, is developing the FCAS – including next-generation manned and unmanned platforms – for France, Germany and Spain.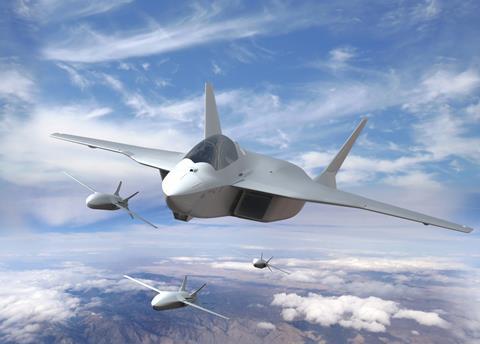 But Berlin recently vetoed a follow-on sale of Eurofighter Typhoons to Saudi Arabia despite the willingness of other programme partners including Italy and the UK to proceed.
Briefing journalists on Dassault's half-year performance, Trappier was unwilling to directly criticise Germany for its move, describing it as a "sovereign decision", but said he was "worried" by the precedent, noting that "France has expressed concern as well".
International sales are "part of the business model" underpinning combat aircraft programmes, he says. "If there is no export, we will not go for the future development of such programmes.
"This is a concern and it is in the hands of policy makers."
Meanwhile, Dassault-led work is under way on Phase 1B activities for the FCAS, which will see the design and development of a crewed New Generation Fighter (NGF) demonstrator.
Engineers from both German and Spanish industry are now embedded with Dassault staff at its St Cloud headquarters near Paris and are "setting up common tools that will allow us to work in proper industrial teams".
However, Trappier cautions that the three partner nations will have to sign a Phase 2 contract before the NGF can make its first flight as planned in 2029.
Reaching a service-entry target of 2045 will require full alignment between the three nations to "agree on a programme".
The NGF is designed as an eventual replacement for France's Dassault Rafale fighters, production of which will continue well into the 2030s.
That follows the recent approval by French politicians of the country's next LPM military acquisition law covering the period from 2024 to 2030 and which will see the acquisition of 42 Rafales, 20 of which will be delivered between 2027 and 2030.
In addition, the LPM sees the activation of options for five Falcon 2000-based Albatros aircraft for maritime security missions, plus a third Falcon 8X-derived Archange electronic warfare aircraft for the French air force.
Dassault is also working on the "architectural design" for a future maritime patrol aircraft based on the Falcon 10X as a replacement for the navy's ATL2 fleet. France last year contracted both Dassault and Airbus to work on potential design studies pending a selection decision in 2024, a timeline confirmed by the LPM.
Dassault currently has orders for 123 new Rafales, plus two refurbished examples, in its backlog. Although it took no new orders in the first half, that figure is likely to significantly increase in the coming months with new commitments from India and Indonesia.
New Delhi recently selected the naval Rafale M to equip its aircraft carriers, with a purchase of 26 fighters being pursued through a government-to-government agreement. Indonesia, meanwhile, will "in the coming days" sign off on the next 18 units of an eventual 42-aircraft Rafale order, says Trappier. That deal was initially disclosed last year and six aircraft are already in the backlog.
In the period to end-June Dassault delivered four Rafales – two to export customers and a pair to France – plus four former French air force jets to Greece; it shipped seven new-build export aircraft in the same period of 2022. A total of 15 Rafales will be shipped this year, the airframer forecasts.
This article has been changed to update Indonesia's order totals in the sixteenth paragraph.

Dominic Perry is deputy editor of Flight International but also contributes extensively to flightglobal.com. Although specialising in the coverage of the helicopter industry, he has written on most topics in aerospace – be they commercial, defence or business aviation. In addition, there has been an increasing focus on the decarbonisation of the industry and zero-emission flight initiatives.
View full Profile