Dassault Aviation has given Airbus Defence & Space a year-end deadline to come to an agreement over a stalled programme to build a next-generation fighter demonstrator.
The two companies have been at loggerheads for at least the past 12 months, delaying a crucial part of the Future Combat Air System (FCAS) programme being developed for France, Germany and Spain.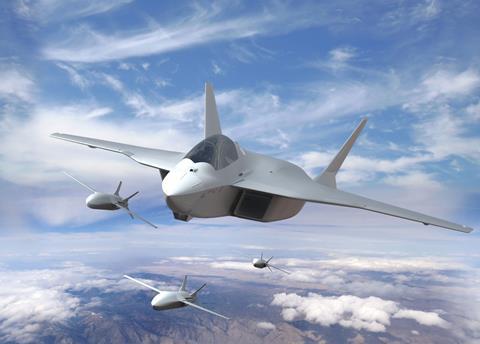 A contract enabling the start of phase 1B work on the New Generation Fighter (NGF), led by Dassault, was meant to have been signed no later than December 2021, but almost eight months on there is little sign of progress.
Delivering a blunt assessment of the current situation in its half-year accounts, the French airframer says it has been unable to reach an agreement with Airbus on the phase 1B contract.
"Dassault Aviation is prime contractor for pillar 1 [the NGF]. The prime contractor/main partner relationship is still to be clarified. Dassault Aviation is seeking a clear statement of acceptance of its role as prime contractor by Airbus Defence and Space for the NGF (in symmetry with Eurodrone)."
EuroDrone is another multinational programme, in this case led by Airbus with Dassault as a subcontractor.
Speaking to journalists after the release of the results, Dassault chief executive Eric Trappier restated his opinion that the FCAS project requires clear leadership in order to succeed. "The house will be solid with strong foundations," he says.
"We have been appointed to be prime contractor so we ask for this to be complied with. Not just for phase 1B but up to the flight. We have asked Airbus to trust us so this leadership can be performed without any obstacles."
Trappier says an agreement needs to be in place "by the end of the year" to allow the project to proceed or for Dassault and France to develop a plan B. "This is not an ultimatum but we cannot stay like this forever with a pen in the air," he adds.
That back-up plan is already being worked on, Trappier says, although he declines to provide details.
First flight of the NGF was originally scheduled for 2025, but this has now slipped to 2027 on the back of the contractual delays.
Originally conceived as a Franco-German project, the FCAS programme was expanded in 2019 with the admission of Spain, which appears to have upset the delicate balance between Dassault and Airbus as the nations' respective industrial champions.
Although Indra is Spain's lead on FCAS, Airbus represents Madrid for the NGF development, and its inclusion has seen it gain workshare at Dassault's expense and precipitated a row over flight-control intellectual property rights on the NGF.
Speaking to FlightGlobal ahead of the Farnborough air show. Airbus group chief executive Guillaume Faury said he remained confident that a way forward could be found: "I remain completely convinced that there will be an FCAS and there will be an agreement. Why? Because the war in Ukraine calls for more unity, for more co-operation, for more European projects – so the vision we had in 2017 when we started is even reinforced by what's happening. How are we going to get there? By negotiating."
However, political pressure may also need to be applied, he argues: "We need to bridge that gap on how we are going to make it work. We are very close, but this still needs to be agreed."

Dominic Perry is deputy editor of Flight International but also contributes extensively to flightglobal.com. Although specialising in the coverage of the helicopter industry, he has written on most topics in aerospace – be they commercial, defence or business aviation. In addition, there has been an increasing focus on the decarbonisation of the industry and zero-emission flight initiatives.
View full Profile