Diehl Defence has showcased two new weapons designed for sixth-generation fighters – including the Future Combat Air System (FCAS) being developed by a trio of European nations.
On display at the ILA Berlin event from 22-25 June, the Future Combat Air-to-Air Missile (FCAAM) will be a direct descendant of the company's IRIS-T munition, says Dirk Krogmann, senior vice-president of future technologies at the German firm.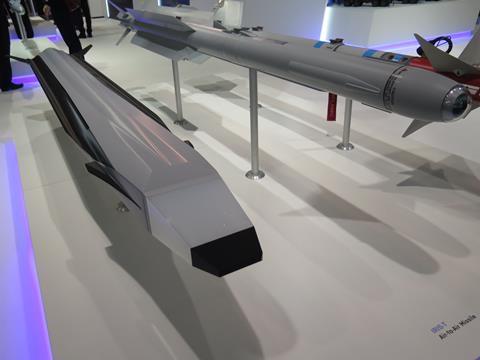 Diehl hopes to field a Block II version of the IRIS-T from 2024, which deals with obsolescence issues in the current iteration, says Krogmann. Improvements are planned for the guidance system, seeker and fuse system, he says.
"It will be more robust against countermeasures and more effective against dedicated low-observability [LO] targets."
Block III is likely to follow after 2027 and will likely gain enhancements to the propulsion system and a potential range increase, adds Krogmann.
"And then all this technology could flow into the FCAAM for the New Generation Fighter [under FCAS]."
FCAAM will be suitable for carriage in an internal weapons bay or magazine-style arrangement, and will itself have LO characteristics.
"But the key components inside the missile will start to be developed now as part of the IRIS-T masterplan," says Krogmann. Funding from the German defence ministry for the enhancements runs until 2025, while development work on the FCAAM concept phase is internally funded.
Diehl Defence also highlighted its new warhead-equipped Light Attack Remote Carrier design at ILA, although it stresses this is not part of FCAS, where work in this area is being led by Airbus Defence & Space and MBDA.
"We see this as a future business so we are investing ourselves," adds Krogmann, noting that it could be suitable for integration onto the Eurofighter in the longer term as part of the multirole type's development roadmap.
Krogmann is hopeful the 320kg (705lb) weapon will be test launched in 2024 – either from an aircraft or more likely from a catapult – if further funding is allocated. Service entry is notionally in the 2030s.

Dominic Perry is deputy editor of Flight International but also contributes extensively to flightglobal.com. Although specialising in the coverage of the helicopter industry, he has written on most topics in aerospace – be they commercial, defence or business aviation. In addition, there has been an increasing focus on the decarbonisation of the industry and zero-emission flight initiatives.