With US inflation topping an annualised rate of 8%, businesses across the economic spectrum are sounding the alarm about the impact of rising prices.
The aerospace defence industry is no exception, and the Pentagon is now acknowledging its procurement contracts may need to include clauses to allow for award adjustments if project expenses rise substantially.
The move by the US Department of Defense comes as several major aerospace contractors, among them Boeing and Lockheed Martin, have reported aerospace projects suffering significant cost increases.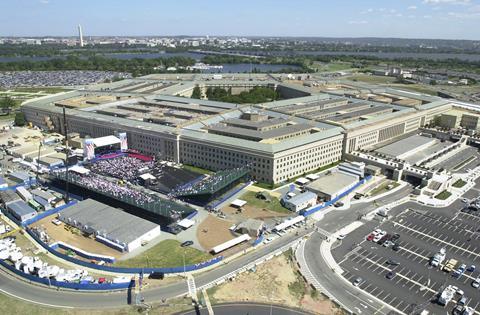 "The current economic environment requires we understand the impacts of inflation to existing contracts," reads a memo published by the Office of the Undersecretary of Defense for Acquisition and Sustainment on 25 May.
Defence contractors and government procurement officials have "expressed renewed interest in using economic price adjustment" (EPA) clauses, adds the memo, signed by John Tenaglia, principal director of defence pricing and contracting under the Office of the Secretary of Defense.
EPA clauses generally allow the government to cover certain cost increases involving circumstances "beyond any individual contractor's control", the memo says. "For contracts being developed or negotiated during this period of unusually high inflation, an EPA clause may be an appropriate tool to equitably balance the risk of inflation between the government and contractor."
But when it comes to adjusting specific contracts for inflation, the memo makes clear that experiences will vary.
So-called firm-fixed-price (FFP) contracts – deals under which vendors agree to provide hardware or services at a pre-set prices – typically do not include EPA clauses. That means contractors "generally must bear the risk of cost increases, including those due to inflation".
High-profile examples of FFP contracts include Boeing's deals to provide the KC-46A Pegasus aerial refueller to the US Air Force (USAF) and to build the new 747-8-based VC-25B presidential aircraft, commonly known as Air Force One.
Both programmes have been beset by losses for the airframer totalling in the billions, as the FFP contracts shift any cost overruns to Boeing. In the first quarter of 2022, for example, the US manufacturer took a $660 million charge against the VC-25B programme, "primarily driven by higher supplier costs to finalise technical requirements and schedule delays", Boeing said.
In the same quarter, Boeing logged a $367 million charge against its development of the T-7A Red Hawk trainer aircraft for the USAF. Boeing cited factors including supply chain constraints and inflation.
Boeing chief executive David Calhoun even went so far, during an earnings call in April 2022, as to express regret for accepting the VC-25B contract under fixed-price terms.
"Air Force One – I'm just going to call a very unique moment, a very unique negotiation, a very unique set of risks that Boeing probably shouldn't have taken. But we are where we are and we're going to deliver great airplanes. And we're going to recognise the cost associated with it," says Calhoun.
He went on to say that he planned to avoid FFP contracts in the future.
Some particularly long-term contracts, such as development and production of new aircraft, allow contractors to hedge against inflation by including periodic price negotiations. Different phases of a programme, such as low-rate initial production and full-rate production, may have separate price negotiations because phases may take place years apart.
Other defence contractors are warning of price hikes.
Those include Lockheed, which recently said inflation could push up the cost of its F-35 Joint Strike Fighter, according to reports. That aircraft programme has long been criticised for budget overruns.