Draken Europe has become the first international customer for Collins Aerospace's Joint Secure Air combat training System (JSAS), with the company expecting the technology to transform its delivery of mission rehearsal services to the UK military.
The private company – which previously operated as Cobham Aviation Services – uses a fleet of uniquely-adapted Dassault Falcon 20 business jets to provide operational readiness training to the UK Royal Air Force, Royal Navy and allied nations. Core to this is the aircraft's carriage of advanced electronic warfare and electronic attack equipment.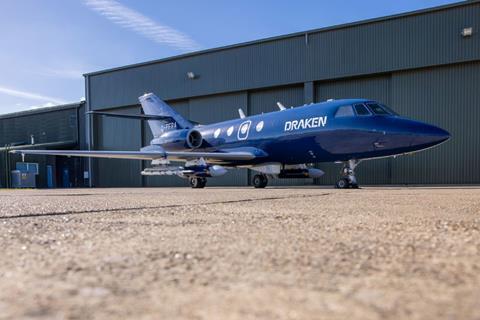 On 13 July, Collins announced that Draken Europe will incrementally acquire its JSAS capability.
Initial deliveries of common range integrated instrumentation system pods have already been made, with flight trials on a Falcon to take place late this year. From 2023, this equipment will be upgraded to Collins' Tactical Combat Training System – Increment II standard, "enabling fully encrypted interoperability with all coalition platforms across legacy P5 and future P6 air combat manoeuvring instrumentation waveforms".
"Through the combination of airborne and ground-based emitters and receivers, the military operator now has the capability of blending live and synthetic platforms to reproduce the most demanding multi-domain threat environment," says Sarah Minett, mission systems managing director for Collins Aerospace UK.
"Previously, one aircraft represented just that one aircraft's-worth of effect. With JSAS, it can simulate the effects of a number of aircraft," she says. It also can replicate weapons, countermeasures and ground-based threats like surface-to-air missile systems, and support real-time joint training with land and naval forces.
Post-mission debriefing capability will also be enhanced, using ground station equipment developed by Collins and Leonardo DRS.
"It's important that our threat simulation and training environment remains current with the latest threats that our forces face," says Draken Europe chief executive Paul Armstrong.
"The key thing for us is to keep focused on technology insertion," he adds. "The relevance of our training effect is by the technology on board. The Falcon's got life left in it, and we're happy to continue operating it."
Chris Ayers, Collins's general manager of integrated multi-domain solutions, notes that JSAS is compatible with fourth- and fifth-generation fighters, and available for external or internal carriage. The same technology can also be employed by transport aircraft, helicopters, intelligence, surveillance and reconnaissance assets and unmanned air vehicles, he notes.
"The agreement [with Draken Europe] includes a commitment to seek opportunities to demonstrate the technology more widely with our coalition partners and to use it as a platform for introducing virtual and constructive training effects to benefit UK defence," Collins says.