Draken Europe is to provide aggressor training for the Royal Air Force (RAF) using Aero Vodochody L-159Es to be operated from Teesside International airport under an initial three-year contract.
Replacing a service previously conducted using the service's now retired BAE Systems Hawk T1s, Draken will begin operations on 1 July, running until 30 June 2025, with the option for an additional three years.
The RAF argues that the Czech Republic-built jets are an upgrade over their predecessors, boasting additional endurance, an air-to-air radar and a radar warning receiver.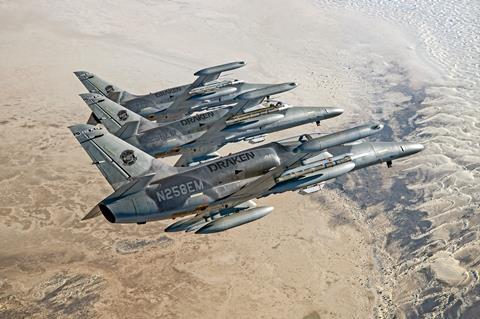 Similar to existing operations provided by parent company Draken International to the US Air Force, the Interim Red Air Aggressor Training Services contract is the first of its kind in the UK.
"This exciting new capability increases the quality of operational training," says Air Commodore Ian Townsend. "By improving the currency, capability and survivability in combat of our [Lockheed Martin F-35B] Lightning and [Eurofighter] Typhoon fighter pilots we will enhance the potency of the UK's combat air capability.
"The contract was delivered through competition, from inception to contract signature, in an exceptionally short timescale of only six months. It is timely, affordable, deliverable and provides defence with excellent value for money."
The L-159s, formerly operated by the Czech air force and upgraded by the manufacturer, will be on the civil register and regulated by the UK Civil Aviation Authority.
A replacement capability will eventually be provided by the UK's Next Generation Operational Training programme.