The US Air Force Life Cycle Management Center (AFRL) has delivered the first full motion simulator for the Boeing E-4B, a 747-200 modified to be an airborne command post for the US government.
The simulator is located at Offutt AFB, Nebraska, where the 595th Command and Control Group is based, says the AFRL.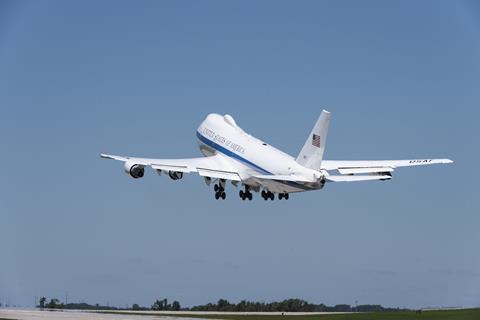 "This simulator is the first of its kind and it's one of a kind," says Major David Meyn, section chief for the E-4B programme.
"It will provide training capability not available previously, and eliminate the need to take E-4Bs out of operations, which will increase aircraft availability and reduce hours on the aircraft."
The simulator will allow flight crew to practice flying operations as well as air-to-air refuelling.
Prior to the establishment of the dedicated E-4B simulator, crews needed to practice on a 747 training device that was not representative of the E-4B. Training was also conducted on E-4Bs.
Given the small size of the fleet – just four aircraft – the simulator should also help free up aircraft for operations.
"With the E-4B simulator, aircrew now have a tremendous capability that enables them to gain proficiency in flight procedures as well as practice dangerous emergency situations that cannot be performed in the aircraft," Meyn adds.
"For example shutting down multiple engines or practicing recovery from stall conditions would not be attempted on the aircraft, but can be performed safely in the simulator."
Known as the "Doomsday" aircraft, the E-4B is designated as the National Airborne Operations Center. During national emergencies, the platform is designed to serve as a highly survivable command and control post.
Cirium fleets indicates that the USAF's four E-4Bs have an average age of 48 years. The US government is in the process of finding a replacement for the type.