Initial work is underway to upgrade 70 Boeing F-15J fighters in service with the Japan Air Self-Defense Force (JASDF) under the 'Japanese Super Interceptor' programme.
The upgrades will see the fighters receive new electronic warfare (EW) capabilities, an updated radar, the ability to carry additional air-to-air missiles, an upgraded central computer, and the ability to launch long-range standoff missiles, according to Tokyo's Acquisition, Technology & Logistics Agency (ATLA).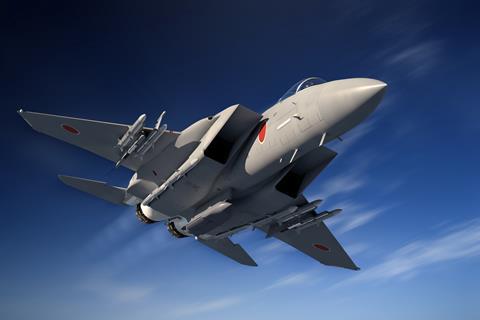 "Detailed specifications of the aircraft are being finalised through close collaboration between the public and private sectors of Japan and the United States, and design work and manufacturing of components and parts for the first two aircraft are progressing at Boeing and Mitsubishi Heavy Industries (MHI)," says the ATLA.
Tokyo has earmarked funds for 18 additional F-15s to be upgraded, with upgrades for follow-on jets to be funded in subsequent defence budgets.
The initial 20 aircraft are to be refurbished by the Japanese fiscal year that runs from 1 April 2024 to 31 March 2025.
The ATLA adds that the upgrade work involves a hybrid model involving direct commercial sales (DCS) and the US government's Foreign Military Sales (FMS) process.
MHI will conduct aircraft modifications locally under a DCS arrangement, while key systems such as the new radar and EW gear fall under the FMS umbrella.
The arrangement will see Boeing design and provide components for the FMS portion of the work under the supervision of the US Air Force, while MHI is tasked with installing FMS systems.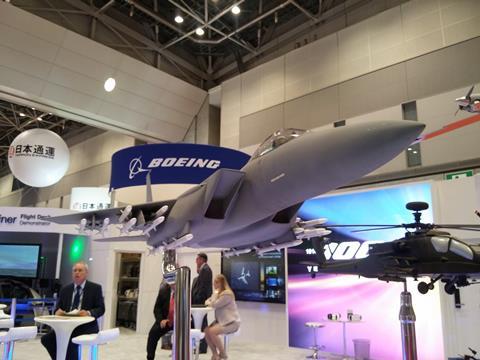 The ATLA also indicates that the 70-aircraft upgrade programme will only involve F-15Js, and not the two-seat F-15DJ.
The upgrade work comes as Tokyo eyes an increasingly belligerent Beijing. Media reports suggest that the larger air-to-air missile payload is intended to help neutralise cruise missiles in the event of a conflict.
While the ATLA has not stated the number of air-to-air missiles the upgraded F-15J will carry, in 2016 Boeing promoted a conceptual loadout of 16 Raytheon AIM-120 Advanced Medium-Range Air-To-Air Missiles; eight greater than the current loadout of eight.
In 2016, a Boeing executive told FlightGlobal that new-build F-15s can accommodate extra missiles on an additional outboard hardpoint. For legacy fighters, including those operated by Japan, fitting an outboard hardpoint would be difficult and expensive, so a better option is to double the number of missiles carried under the fuselage, to eight.
Original plans envisaged 98 jets being upgraded, but budget concerns pushed this down to 70. Cost saving measures also saw the elimination of a plan to integrate Lockheed Martin's AGM-158 Joint Air-to-Surface Standoff Missiles (JASSMs).
Instead of JASSM, Japanese media reports have suggested that the developmental Mitsubishi ASM-3 missile will provide the aircraft a new anti-ship capability.