UAE defence house EDGE has unveiled the Arab world's first multi-modal military test facility – occupying an entire 350km sq island off the coast of Abu Dhabi.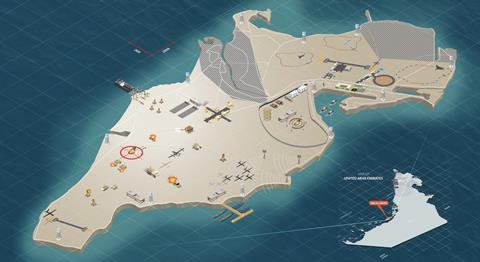 The X Range may sound like something from James Bond, but the state-owned business believes its secure island site – which includes an area to fly unmanned air vehicles (UAVs) and a helicopter firing range, as well as a landing beach and urban warfare training village – could transform how manufacturers test their products and armed forces train.
The move comes after the consolidated defence group – which is marking its fourth anniversary – announced on the eve of the Dubai air show significant stakes in two European unmanned air system developers as part of a bid to broaden its capabilities in that segment.
Work on the Abu Al Abyad island development – about 1h drive south of Abu Dhabi city – has been underway since shortly after EDGE's foundation, but it is only now being promoted. Initially used by EDGE and the UAE military, it will open to international clients by 2025.
"We realised from day one that we needed to have such a capability in the UAE," says Omar Al Zaabi, president of EDGE's trading & mission support unit.
The site will comprise four zones. X Ranges East and West, for air, include 3,800m (12,500ft) and 1,200m runways, and areas for missile firing and testing UAVs. The centrepieces of the North zone are a shoreline for amphibious landing exercises and the urban training village for special forces training. X Range South is dedicated to aerial propulsion and directed-energy weapons testing.
A unique feature, says Al Zaabi, is that each zone will have its own secure communications network and dedicated airspace to ensure that several customers can use it at once.
He says X Range will act as a technology accelerator for EDGE and other UAE defence companies in that they will be able to evaluate products immediately rather than "waiting for a slot in six or eight months" at an overseas facility.
However, he also expects the Gulf location to be popular with overseas clients. "We have already had multiple requests from international OEMs," he says. "It is difficult to find this sort of harsh environment for testing elsewhere, with temperatures over 50°(C) and humidity. If you can show that something works here, it will work anywhere in the world."
Elsewhere, EDGE, which was unveiled just ahead of the 2019 Dubai show, continues its expansion. On the eve of this year's event, the business confirmed it has taken a 50% shareholding in Flaris, a Polish start-up that is developing a single-engined, short take-off and landing personal jet, the LAR1. The two companies plan to establish a joint venture to continue the programme, including an autonomously piloted version.
It follows a 6 November announcement that EDGE will take a majority stake in Anavia, a Swiss developer of uncrewed, vertical take-off and landing aircraft up to 750kg (1,650lb).