To say Edge Group bestrode its home show IDEX would be an understatement. The state-owned UAE defence house announced a slew of contracts with its domestic customer, including for precision-guided and loitering munitions. It also revealed it is discussing potential collaborations with, among others, BAE Systems, L3Harris and Raytheon.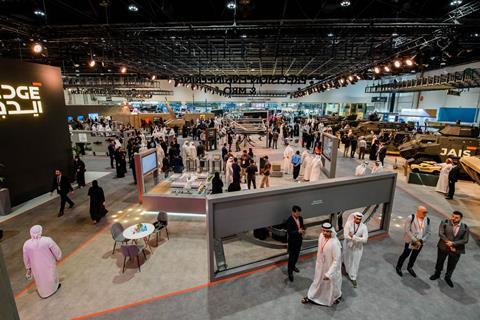 Its football pitch-sized stand at the biennial Abu Dhabi exhibition – held from 20-24 February – featured an array of products, including more than a dozen autonomous airborne platforms, with first appearances for the Jeniah unmanned combat air vehicle and Air Truck, a 500kg (1,100lb)-payload rotorcraft designed to supply frontline troops or carry out medical evacuation.
Chief executive Mansour Almulla says the business's scaled-up presence at the event was all about reinforcing its credentials as an innovative, entrepreneurial developer of proprietary technology in disciplines such as weaponry, autonomous systems, and electronic warfare. It is also keen to investigate business partnerships with counterparts large and small from around the world.
Edge was set up just before November 2019's Dubai air show to bring the nation's defence industrial assets under one roof. With its deep pockets and pressing security imperatives, the UAE had been a big buyer of foreign military equipment for decades. Edge was Abu Dhabi's bid to become a heavyweight on the supply side too – not just for domestic needs but also in the export market.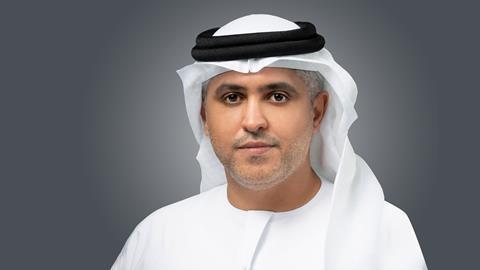 Almulla believes that in its fourth year of existence Edge is already making strides to that goal. "We have come a long way," he says, pointing to the fact that from having fewer than 20 products in its portfolio when the business was set up, it now has around 110. Of these new capabilities, around 50 are market-ready and another 40 in advanced development.
The UAE still accounts for the bulk of its orders – deals announced at the show for its Halcon unit included a one billion dirham ($270 million) contract for Al Tariq long-range missiles, and another listed at 4.7 billion dirham for Desert Sting 25 lightweight air-to-surface precision-guided munitions. Halcon will also supply additional Hunter loitering munitions to the UAE armed forces.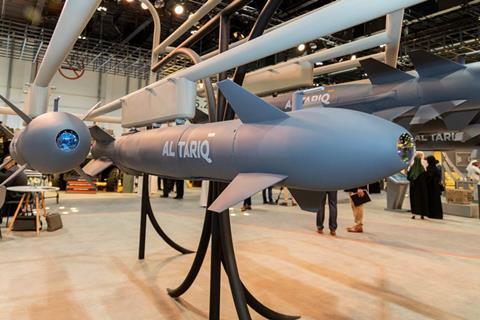 However, the export market is a priority, and Almulla believes shows such as IDEX are a shop window to the world for the young consolidated business. Overseas sales grew from one billion dirham in 2021 to five billion dirham last year, or roughly a fifth of Edge's total order intake. "There will be dips and spikes in that trend, but the message is that we are progressing," he says.
Among the new products announced at the show was counter-unmanned air vehicle system Skyshield, designed to provide protection to critical infrastructure. Developed by Edge's electronic warfare arm Sign4l, it comprises sensors, 3D radars, electro-optical cameras, and direction finders, integrated into a command and control system.
Also seeing the light of day was SkyKnight, which Edge says is the first UAE designed and manufactured counter-rocket, artillery and mortar (C-RAM) missile system. Edge is teaming with Germany's Rheinmetall to offer SkyKnight as the missile system component of its Oerlikon Skynex air defence system.
As with the Rheinmetall collaboration, Edge is not doing it all on its own. This year it bought a $14 million stake in High Lander, an Israeli specialist in air traffic management (ATM) solutions for unmanned air vehicles (UAVs). It was Edge's second Israeli tie-up since the signing of the Abraham Accords, after agreeing in 2021 to work with Israel Aerospace Industries on counter-UAV systems.
While the Israeli deals are politically symbolic – until 2020, the UAE did not acknowledge the Jewish State's existence – Almulla says that when it comes to potential partners, "we look at capabilities, not countries". Abu Dhabi has "excellent relationships with most countries", a fact borne out at IDEX, which featured exhibitors from Russia and China as well as Ukraine, Israel and NATO members.
"The bottom line is that if we feel we can achieve our objectives with an acquisition or business partnership, we will take it to the board," he says. The idea is to integrate technologies that help to supercharge Edge's existing portfolio. "We are seeking true partnerships to achieve capabilities that sit with us and can be exported," he adds.
Edge's growth comes with challenges, Almulla admits. One of these is industrialising and nurturing an extensive supply chain within and beyond the UAE. "We have now to be ready to deliver in large numbers," he says. However, he believes the business is focusing on the growth areas of the future, including counter-UAV defensive systems and all aspects of cyber warfare.
Most importantly, he maintains that his nation does not want to remain dependent on foreign partners for its security. "We are a country which has traditionally bought all the equipment we need from overseas," he says. "Now we are setting about developing our own capabilities and retaining our IP [intellectual property]."