Abu Dhabi national defence house EDGE has added to its autonomous air vehicle capabilities with a majority stake in Anavia, a Swiss developer of vertical take-off and landing aircraft of up to 750kg (1,650lb).
Anavia was set up in 2019 as a division of composites specialist Connova. Its main product is the HT-100, a 65kg-payload platform with a range of 216nm (400km) and 250min endurance that can be deployed for either cargo or surveillance.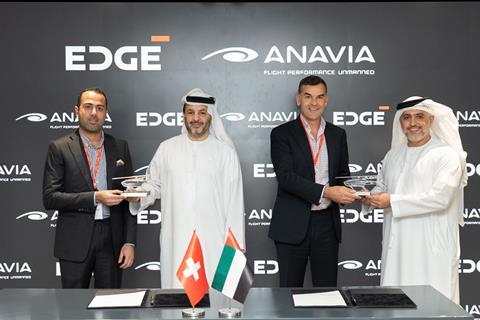 Mansour AlMulla, chief executive of EDGE, describes the acquisition of the 52% shareholding, announced on 6 November, as an "important step in EDGE's strategy of bolstering its advanced autonomous aerial vehicle capabilities".
EDGE – founded in 2019 to consolidate around 20 state-run defence businesses – sees autonomous systems as a key growth area. It already owns unmanned air vehicle manufacturer ADASI.