Cairo has ordered 30 additional Dassault Rafale fighters, in a follow up to a previous acquisition of 24 examples.
The 30 new Rafales will be funded through a loan with a tenure of 10 years, discloses Egypt's defence ministry.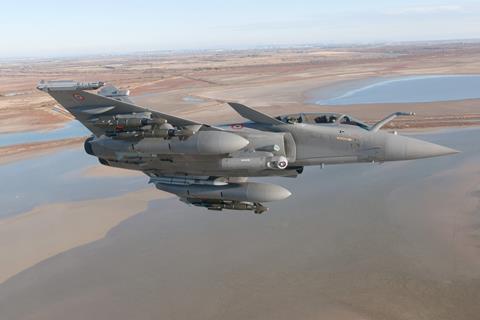 The ministry lauds the type's capabilities, noting that it can conduct "long-range tasks" and carry advanced weapons.
In 2020, the Egyptian air force received the final examples from the original 2015 order for 24 jets.
Cirium fleets data shows that Egypt operates 304 combat jets including Dassault Mirage 5s and Mirage 2000s, Lockheed Martin F-16s, RAC MiG-29s and Sukhoi Su-35s, as well as the Rafales.
The fresh Egyptian order comes after a decent 2020 for Dassault, when it delivered 13 Rafales to export customers India and Qatar, following 26 deliveries in 2019.
Cirium fleets data suggests there are 212 Rafales in service globally. The French air force and navy operate 143 examples.
International operators include India and Qatar, while Greece has orders for 18 examples that include 12 secondhand jets.
The Rafale is also a contender for several international competitions, including Finland's HX contest for 64 new fighters.
In the Asia-Pacific region, it has the possibility for follow-on sales in India through an air force requirement for 110 new fighters, as well as a separate navy requirement for 57 carrier-capable jets.
In December 2020, French media reported that Indonesia was considering the acquisition of 48 Rafales, while in February 2021 the Indonesian air force chief of staff suggested the nation would obtain 36 Rafales by 2024.