Saab used the Kauhava air show to announce fresh details about its Gripen E/F proposal for Finland's HX fighter requirement, including the addition of a lightweight air-launched decoy missile (LADM).
Speaking at the event site on 28 August, Saab's HX campaign director Magnus Skogberg said the in-development LADM is being offered to Helsinki along with the company's electronic attack jamming pod, first flown with a Gripen last November.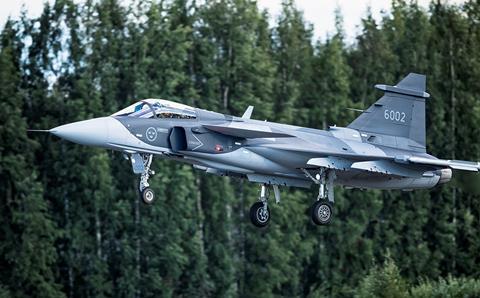 The electronic warfare equipment "will help to suppress hostile air-defence systems… making a corridor for safe operations with aircraft and missiles", Skogberg says.
Further details of the LADM design have not been disclosed, but he confirms that work on the concept began "a number of years back". Saab chief executive Micael Johansson adds that the development activity involved engineers at the Saab Technology Centre in Tampere, Finland.
The Swedish air force sent its first Gripen E (aircraft 6002) to participate in the 29-30 August Kauhava show, while a GlobalEye surveillance aircraft also visited the event. The Bombardier Global 6000-based type was developed for lead customer the United Arab Emirates, and also is being offered as part of the Swedish bid in Finland.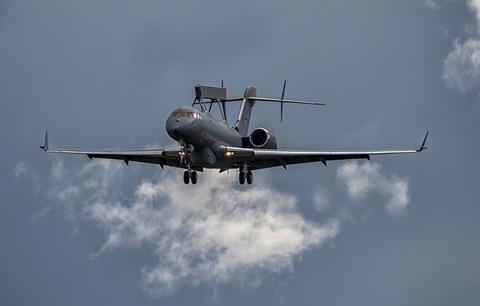 Helsinki has set a budget of €10 billion ($12 billion) for the HX procurement, which will field replacements for its current Boeing F/A-18C/Ds.
"Our package stays within these boundaries," Skogberg says, with only minor adaptations required at Finnish maintenance facilities. The Swedish proposal also includes personnel training and simulators, a five-year package of in-service support during the new fighter's introduction from 2025, plus what the company describes as a "substantial weapons package".
Helsinki has also been offered industrial participation including parts production and potentially final assembly of the Gripen E/F and its GE Aviation F414 engine.
Describing Finland and Sweden as "sister countries", Johansson says the nations could defend their territories using the Gripen "way out to 2060" should Helsinki also acquire the single-engine type.
Saab last year delivered its first of a contracted 60 Gripen Es for the Swedish air force, to support testing, and also handed over the lead example of 36 ordered for the Brazilian air force.
Rivals for the HX contract are the Dassault Rafale, Eurofighter Typhoon, Lockheed Martin F-35A, and Boeing's F/A-18E/F Super Hornet and EA-18G Growler electronic attack aircraft. A selection is due before the end of 2021.