Embraer has finalised an agreement with the Brazilian air force (FAB) over a reduction to its order for the C/KC-390 transport/tanker, with the service to reduce its acquisition by six units.
Announcing the resolution on 9 February, Embraer confirms: "The total number of aircraft to be contracted by the FAB will be reduced from 28 to 22 units, with deliveries scheduled until 2034."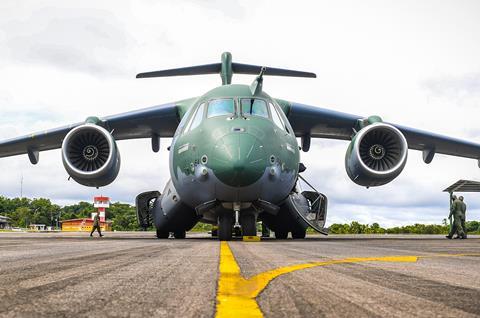 In May 2021, Brazil's Jair Bolsanaro government stated its intention to reduce the airlifter order due to an economic downturn driven by the Covid-19 pandemic. Last November, the air force indicated that its order could be slashed to just 15 units.
"The new production rates are aligned with the FAB's budget conditions while allowing Embraer long-term planning with its suppliers," the airframer says.
Brazil signed its 28-unit launch order for the KC-390 in 2014, with the FAB taking its first example five years later. Four of the type are currently in service.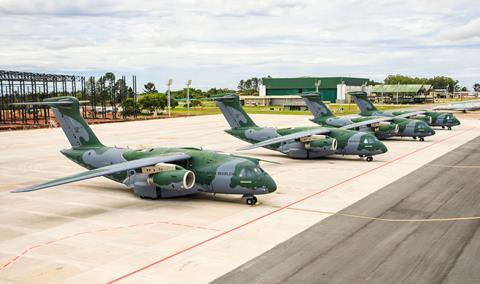 Embraer has secured two export customers for the type, with Hungary to acquire two and Portugal five – successes which it says contribute positively to "Brazil's trade balance".
"Bringing unique innovations in its category, the aircraft has been successfully placed in FAB humanitarian missions in Brazil, in the fight against Covid-19, and abroad, such as supporting victims in Lebanon and Haiti," the company says.
"With this agreement, Embraer reinforces its role as [the] FAB's strategic partner for the development and deployment of solutions and high value-added technological products," it notes.