Embraer executives have outlined their bold sales ambitions for the C/KC-390 Millennium, as the company draws close to delivering the jet-powered tactical transport to its second operator.
A 20-year business forecast prepared by the company has identified an addressable market for around 490 airlifters in the C-390's class, worth an estimated $60 billion.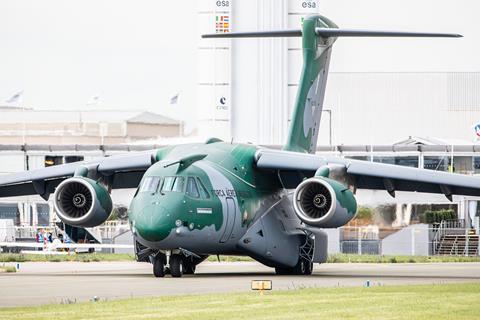 Embraer currently has firm orders for 31 of the International Aero Engines V2500-powered type, for the air forces of Brazil (19), Hungary (2), the Netherlands (5) and Portugal (5).
The Brazilian air force today has five of the transport/tankers in service, with a sixth example to be transferred soon. This will be the first aircraft supplied in a full operational configuration standard approved by the operator in March 2023.
Embraer cites an in-service availability rate of 80% for the KC-390s flown by the Brazilian air force, with the service reporting a mission completion rate of above 99.8% with the type.
Two C/KC-390s will be on display at the Paris air show later this month: a Brazilian air force example, and the first of Portugal's future assets. To be handed over later this year, the latter is currently having NATO-standard systems installed.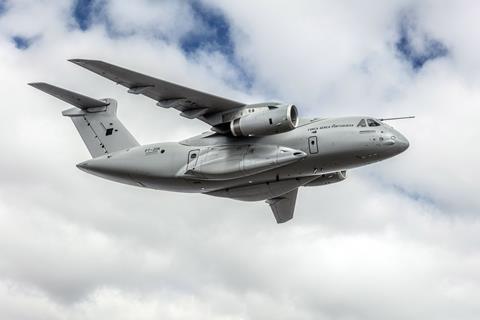 Hungary's lead aircraft was in late May poised to achieve its power-on milestone, with its delivery slated for the first quarter of 2024.
Speaking to FlightGlobal on 25 May at subsidiary OGMA's Alverca site near Lisbon, Portugal – where major structures of the C-390, including its main fuselage side panels are manufactured – Embraer chief executive Francisco Gomes Neto revealed that the company has active campaigns with at least eight countries, including European NATO members.
Those countries understood to be interested in the airlifter include alliance member Romania, pending addition Sweden, and neutral Austria, which needs four or five aircraft to replace its aged Lockheed Martin C-130Ks.
EUROPEAN SECURITY
Gomes Neto says interest has spiked due to the changed security situation in Europe following Russia's February 2022 invasion of Ukraine, and also notes: "After the Netherlands' decision, things have changed in our favour."
Embraer remains in negotiations with the Netherlands regarding NATO-standard updates to be implemented with its jets, which were selected last year as replacements for aged C-130Hs.
"We are facing a very important momentum in the market," says Embraer Defense & Security chief executive Bosco da Costa Junior.
C-130H operator Sweden is viewed as a strong candidate for the twinjet, after Embraer and Saab earlier this year signed a memorandum of understanding covering its promotion to Stockholm, along with a strengthened relationship to offer the Swedish manufacturer's Gripen to Latin American air forces including Ecuador and Peru.
The C-390 also is being promoted in the Middle East via a partnership with the UK's BAE Systems, with Saudi Arabia as an initial focus.
AGILE TANKER
A so-called Agile Tanker development of the Brazilian design is also being promoted to the US Air Force with partner L3Harris. The platform is intended to support operations from dispersed and potentially austere landing strips located in the Asia-Pacific region.
Acting as prime contractor, L3Harris in March responded to a request for information, and the partners plan to conduct future flight testing of a KC-390 with a lightweight refuelling boom installed beneath its aft fuselage.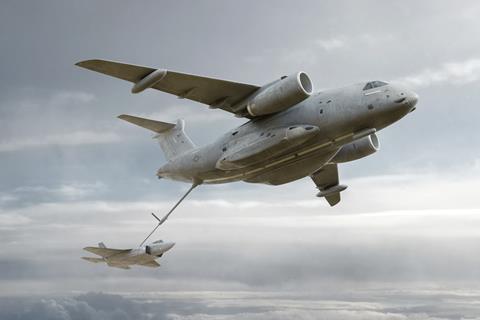 "We believe we will add additional capabilities to the US Air Force, by having more tactical tankers in a strategic position," da Costa Junior says.
Meanwhile, Embraer believes opportunities also exist to sell Praetor-family business jets to air force customers.
In addition to pitching the type for light transport tasks, the company has also teamed with Israel's Elta Systems to pitch an airborne early warning and control system adaptation of the super-mid-size Praetor 600.
Called the P600 AEW, the derivative was first unveiled at 2019's Paris air show but has yet to attract a customer.
"There is military interest in the Praetor, but the question is delivery slots," da Costa Junior says. The airframer's executive jets division recently secured a deal to supply fractional ownership operator NetJets with up to 250 Praetor 500s, for delivery from 2025.