Embraer expects to announce a first order for the NATO-optimised A-29N version of its Super Tucano later this year, having demonstrated the light attack turboprop to several alliance members.
Speaking on 26 May at OGMA's Alverca site near Lisbon, Portugal – where the A-29N demonstrator is based – Embraer Defense & Security chief executive Bosco da Costa Junior said "we expect to have a launch customer this year". He identifies the Netherlands and Portugal, plus neutral Austria, as among the nations to have flown the type.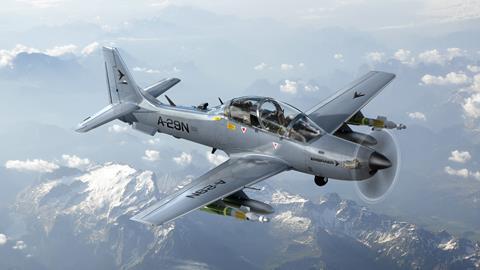 The company in mid-April launched the A-29N, "with an initial focus on meeting the needs of NATO nations in Europe".
Embraer says it has sold more than 260 Super Tucanos to 16 air forces. The global fleet has accumulated a combined 535,000 flight hours, it adds, including 60,000 during combat operations.
"It's a completely proven platform," says da Costa Junior, who points to its utility as a multi-role asset.
"We are looking for the usage of the A-29 in the NATO community as a defensive trainer, JTAC [joint terminal attack controller] trainer and [for] reconnaissance – those are the demands that we are listening to in this market," he says.
"The countries that we are in touch with… would like to use their planes for a more simple operation in a war environment.
"To fly a fifth-generation fighter is so expensive… the flight hour of this airplane is very cost-effective, so we believe this airplane could perform a very important role [for NATO nations," da Costa Junior says.
Embraer is in the process of defining the adaptations required for the A-29's operation by NATO members, which will largely focus on communication system and datalink updates. "We have intentions to add additional equipment, including a large, smart display… in the country of the launch customer," he reveals.
No European operators currently fly the Super Tucano, with Embraer's existing customers located in Africa, the Asia-Pacific, Latin America, Middle East and North America.
Embraer believes an addressable global market exists to deliver 500 A-29s over the next 20 years, with this volume of business to be worth a potential $6.5 billion.
To support its ambitious sales target, the company's defence unit has appointed Portugal-based Frederico Lemos to the new role of chief commercial officer for international business. The step is intended to "build on the excellent momentum of the C-390 Millennium and A-29 Super Tucano in the global market", it says.
A former Portuguese air force engineer, Lemos previously was involved in Embraer's promotion and sale of five KC-390 tactical transports to Lisbon. The first of those jets will be delivered later this year.