Decades of indecision over fleet modernisation and the lack of a joined-up industrial strategy have left European defence firms at a disadvantage against their US rivals for domestic business, according to the head of Airbus Defence & Space.
Michael Schoellhorn, chief executive of the airframer's defence division, says although he sees "good momentum" from multi-national programmes such as the EuroDrone and Future Combat Air System, the need to rapidly bolster their military capabilities on the back of the war in Ukraine has left some countries with limited choices.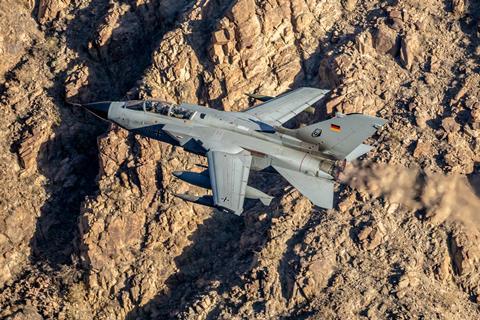 Asked at the Airbus Summit 2022 in Ottobrunn on 1 December if Europe was doing enough to support its domestic defence industry, Schoellhorn said his "short answer would be 'no'".
He points to Germany's selection of the Lockheed Martin F-35A over the Eurofighter Typhoon to replace its fleet of Panavia Tornados for the nuclear deterrence mission.
"There would have been alternatives. The problem was the decision was kicked down the road for such a long time that the timeline to get it done and certify the US nuclear bomb on the Eurofighter would have been almost impossible to accomplish."
While identifying a certain "logic" in some acquisitions, even those can be laid at the door of previous investment decisions, he argues: "If Europe has no large transport helicopter, Germany buys a [Boeing] Chinook.
"Now if you look in the long term, why is that? It's because the mistakes were made 10 years ago.
"And that's the crux of it by now going overboard with buying American you buy yourself a liability for the next 10 or 20 or 30 years [by] not strengthening your own industry enough," says Schoellhorn.
Germany, in particular, is "paying for a lack of long-term strategic industrial planning", he says.
If European countries still need to buy from the USA or elsewhere then "at least involve [European industry] in the maintenance and sustainment", because "that is where sovereignty starts", Schoellhorn adds.

Dominic Perry is deputy editor of Flight International but also contributes extensively to flightglobal.com. Although specialising in the coverage of the helicopter industry, he has written on most topics in aerospace – be they commercial, defence or business aviation. In addition, there has been an increasing focus on the decarbonisation of the industry and zero-emission flight initiatives.
View full Profile