Ongoing tensions between the industrial partners involved in a tri-national effort to develop a sixth-generation fighter appear no closer to resolution, with efforts to progress the project still stalled.
Airbus Defence & Space and Dassault Aviation were due to sign a contract in 2021 covering the creation of a demonstrator aircraft for the New Generation Fighter (NGF) being developed for France, Germany and Spain as part of the wider Future Combat Air System (FCAS) programme.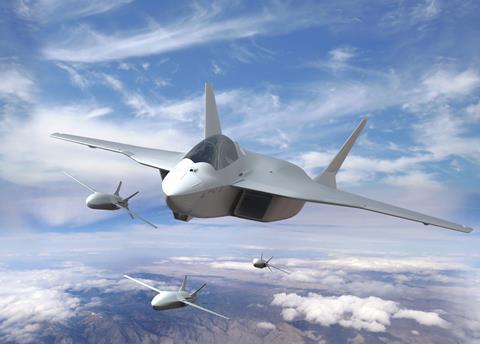 However, that contract – known as Phase 1B – is no closer to being agreed, according Eric Trappier, chief executive of Dassault, the prime contractor for the NGF work.
"We were ready to go ahead but sometime between September and December it stopped. I don't know how it will start back," he told FlightGlobal at last week's EBACE business aviation show.
While FCAS was originally a Franco-German project, the admission of Spain in 2019 has ratcheted up the tension, particularly on the NGF, where Airbus represents now both Berlin and Madrid.
"It is not only a political issue, it is also a matter of sharing the work between Airbus and Dassault," says Trappier.
"We have made big efforts, [but] as far as Dassault is concerned we have only one-third of the job. We are the prime architect taking overall responsibility in front of the defence ministries and want to be capable to take this responsibility without Airbus always saying they want to do more."
Dassault's main objection is the insistence that intellectual property relating to flight-control software be shared among the partners. But Trappier points out that the system for the NGF demonstrator will be an "off-the-shelf" solution, derived from a Falcon business jet.
"Why should we share our technology on the Falcon with Airbus? Airbus in Toulouse knows perfectly well how to develop flight controls," he argues.
However, with Germany and Spain likely to insist on full co-operation – or at least access to the technology – on the flight-control system for any future production aircraft, this appears likely to remain a thorny issue.
Tension is also likely to be stoked by the fact that Dassault's Rafale and the Eurofighter Typhoon – for which Airbus is the flight-control provider – remain rivals for current-generation fighter sales, with neither side willing to cede any perceived advantage.
But Trappier contrasts the impasse on the NGF with the four-nation EuroDrone project, which is led by Airbus and "we follow them", he says, adding: "We are not trying to say we need to know everything and they should do the same [on NGF]." Dassault is developing the flight controls for the unmanned aircraft.
He says Dassault is still prepared to sign the Phase 1B contract, but only within the previously agreed framework, not to rules "that are changed every three months" to accommodate the demands of other parties.
And while the delay to Phase 1B activities continues, Dassault has had to redeploy its project team elsewhere in the business. While a contract signature is still possible this year, "I will need time to gather the team again", he notes.
Airbus, however, defends its position, noting that agreement has been reached on "all six other pillars" of the FCAS development, "where even under a defined leadership the competence and capacities of each partner are respected and can participate in an equitable manner", it says.
"Airbus has made several proposals to converge also on the NGF and we are supporting any solution which will respect both the skills of each partner and the lead role of Dassault, leading to a fair agreement.
"We are confident that a resolution can be achieved if the rules of the cooperation agreed by the nations are respected in the NGF, as it is the case on other pillars."