Instead of dying out as Lockheed Martin's fifth-generation F-35 Lightning II scoops up an increasing number of international orders, the manufacturer's older F-16 is enjoying a late-life revival.
Having established a new final assembly line for the F-16 in Greenville, South Carolina, the US airframer is now within months of delivering its first customer example of the type since it in 2017 transferred the last to be completed at its Fort Worth site in Texas.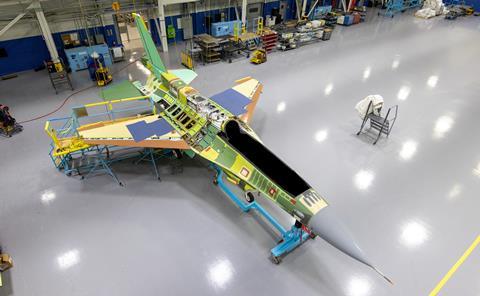 The Royal Bahraini Air Force (RBAF) will have the distinction of taking the milestone jet – also the first built to Lockheed's latest Block 70/72, or V-model standard.
"The first F-16 Block 70 jet, for Bahrain, is now in the final assembly and checkout process. Flight tests will begin in early 2023," Lockheed says. The company expects to complete the so-called DD250 delivery process to the US government – which is providing the aircraft to Manama via a Foreign Military Sales (FMS) programme deal – in the first quarter of the year, it adds.
Already an operator of 21 F-16C/Ds, Bahrain in June 2018 ordered 16 new-build examples to strengthen its air force fleet, under a deal worth $1.2 billion. The aircraft will use GE Aviation's F110 engine, in common with its legacy assets.
TAKING SHAPE
Images released by Lockheed show the nation's lead new aircraft – one of an eventual four two-seat examples – undergoing structural assembly in Greenville around the middle of this year, including undergoing landing gear installation and the wing to fuselage mate.
Five countries have so far signed firm contracts to acquire the Block 70 and Pratt & Whitney F100-powered Block 72 aircraft, with their combined commitments totalling 128 jets. Along with Bahrain, these buyers are repeat F-16 customers Morocco (24) and Taiwan (66), plus two future new operators: NATO members Bulgaria (8) and Slovakia (14).
"Block 70/72 production continues to make significant progress, with multiple aircraft in work for Bahrain, Slovakia and Bulgaria," the company says. "The Block 70 production rate will increase significantly throughout 2023, with DD250 deliveries for additional customers continuing into the mid-to late-2020s."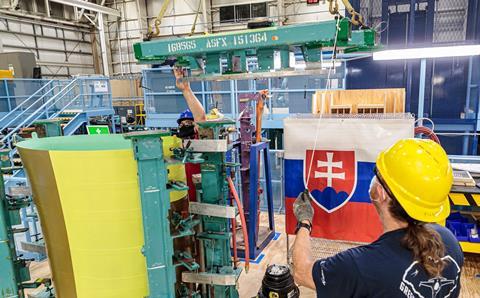 Beyond its current backlog, Lockheed notes that "Jordan has signed a letter of offer and acceptance for eight new aircraft, and Congressional notification for a second fleet of [8] jets for Bulgaria was released earlier this year."
Jordan – which already operates 59 A/B-model F-16s – in June 2022 signalled its intention to obtain the eight Block 70 examples.
IMPROVED PERFORMANCE
Lockheed highlights that a broad range of enhancements have been incorporated with its new-standard jet. These include the Northrop Grumman APG-83 active electronically scanned array radar, an "improved performance engine", the installation of conformal fuel tanks, plus a datalink and advanced weapons.
The US Defense Security Cooperation Agency in May 2019 outlined a potentially $750 million armament package for the RBAF's Block 70 jets, with air-to-air munitions to include Raytheon AIM-120 AMRAAM and AIM-9X Sidewinder II missiles. Air-to-surface stores mentioned included the Boeing AGM-84 Harpoon Block II anti-ship missile and GBU-39 Small Diameter Bomb; Raytheon AGM-154C Joint Standoff Weapon and AGM-88B High-Speed Anti-Radiation Missile; plus precision-guidance kits for use with a variety of bomb sizes.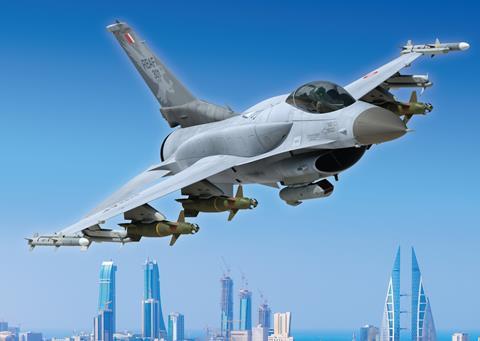 The fighter's modernised cockpit features updated avionics and a Joint Helmet Mounted Cueing System II, along with safety enhancements including an automatic ground collision avoidance system. Airframe life also has been extended to 12,000 flight hours.
Lockheed declines to outline its planned delivery schedule beyond the first RBAF aircraft, referring questions about such FMS transactions to the US government. Likewise, it directs queries regarding Manama's plan to also modernise its in-service F-16s to the customer. However, it notes: "Regarding upgrades for the current fleet, we know this remains a priority for Bahrain."
The US Department of State in September 2017 gave its approval for a potentially $1 billion project to update the RBAF's Block 40-standard aircraft – which are aged between 20 and 32 years – to the V-model standard.
Lockheed says its upgrade and sustainment programmes "help ensure the F-16 can operate for decades to come and support our customers' national defence, regional security and interoperability with the United States".
Meanwhile, asked about the task of establishing its new assembly facility in Greenville against the backdrop of a global pandemic, Lockheed confirms: "We have experienced some supplier challenges, many of which were Covid-19 related, as well as challenges with starting a new production line in a new location, and staffing challenges related to a competitive labour market.
GROWING GREENVILLE
"However, we continue to take proactive measures in partnership with the US government, our suppliers and our international partners to maximise production efficiency," it says. This has included "hiring more than 300 employees at our Greenville site to support F-16 operations".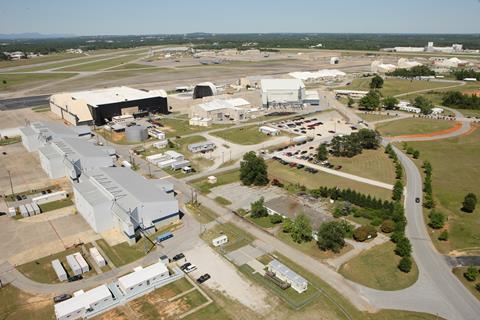 In addition, "New digital engineering technologies are also being implemented into the production line to maximise efficiency and decrease span time," the company notes.
As Lockheed prepares to begin the new chapter in the F-16's already almost 50-year operational story – the type was first flown in 1974, and entered service with the US Air Force four years later – it remains the most widely-operated fighter in use today. Cirium fleets data used in FlightGlobal's soon-to-be-published 2023 World Air Forces directory shows that 2,184 examples are currently operated as combat aircraft, with another 626 employed as dedicated trainers.
Those 2,810 jets are in use with 25 nations, located in Africa, the Asia-Pacific region, Europe, Latin America, the Middle East and North America.
Once deliveries resume next year, Lockheed has an assured production path running out for several years, but sees clear potential to sell yet more examples to export customers.
"We see significant potential for additional new production F-16s based on international interest," says Danya Trent, the company's vice-president of F-16 programmes. In addition to the pending eight-aircraft deal with Jordan and follow-on batch for Bulgaria, she refers to the prospect of sealing further business with "customers in Europe, Asia and Africa".
"Based on that level of demand, we see production opportunities in Greenville well into the late 2020s and beyond as additional customers select the F-16," Trent says.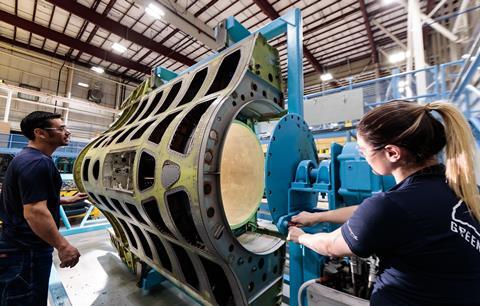 One major opportunity lies with the Indian air force (IAF), which has a long-standing need to acquire 110 new fighters. Indeed, the scale of the potential deal is strong enough to have encouraged Lockheed to from 2019 offer a unique F-16 variant renamed as the F-21.
UNIQUELY SUITED
"Our F-21 is uniquely configured to meet or exceed all of the IAF's Multi-Role Fighter Aircraft requirements as we understand them to date," Lockheed says. Noting that the nation's government has yet to release a formal request for such a fleet, it notes: "If requirements deviate from our current understanding, then this may yield changes to our configuration and ultimate offering."
Lockheed will, however, face strong competition for an Indian order, with regular sales adversaries Boeing, Dassault Aviation, the Eurofighter consortium, and Saab also all interested in pursuing such a lucrative, large-scale order.
Lockheed stresses that its F-21 proposal concerns "an indigenously-produced, Indian aircraft for India… which addresses the goals of self-reliance while providing India with an improved security cooperation relationship with the United States".
"Production of the F-21 in India will create thousands of new highly-skilled jobs within the Indian industrial base," it says. The airframer points to its more than three-decade presence in the Indian market, including the success of its Tata Lockheed Martin Aerostructures and Tata Sikorsky Aerospace joint ventures in Hyderabad. These "have been instrumental in helping India achieve its goal of developing an aerospace and defence supplier ecosystem", it notes, while Lockheed has established "significant teaming agreements, and close to 500 suppliers" in the country.
"We have had tremendous success working with the Indian industry; the products are very high quality and the delivery is on time and at a good cost," Lockheed says.
With assembly work gathering pace in South Carolina, and customers including Bahrain eagerly awaiting the receipt of the most advanced F-16 variant yet built, Lockheed appears set to have many more years of success with the ubiquitous light fighter.

Craig Hoyle joined Flight International in 2003, and has edited the now monthly title since 2015. He has reported on the UK, European and international military aviation sector for more than 25 years, and produces our annual World Air Forces directory.
View full Profile