With just two weeks of 2020 remaining, Lockheed Martin expects to end December having delivered a total of 121 F-35 stealth fighters this year – about 20 short of its original goal.
As the coronavirus pandemic began to impact the company's operations and those of its suppliers earlier this year, Lockheed revised its 141-unit target, saying that it expected to hand over between 18 and 24 fewer examples.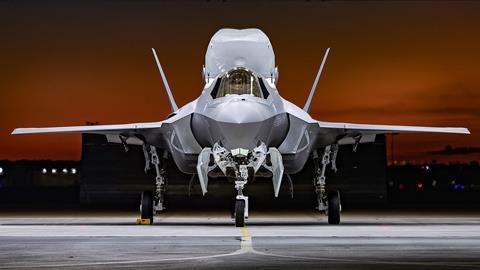 "Our current target is 121 aircraft for the end of the year," says vice-president F-35 business development Steve Callaghan.
If achieved, this revised total would be just 13 fewer aircraft than the 134 handed over in 2019, despite the scale of the challenge posed by the global health crisis.
"We took some proactive measures early on to try to mitigate the impacts, and position the programme for the fastest possible recovery," Callaghan says. "We did that by adjusting work schedules, we sent payments ahead to specific suppliers that we knew would be very adversely impacted by Covid, and we have had to adjust delivery schedules."
"We are very much focused on a healthy workforce for both Lockheed Martin and all our industry partners and suppliers, while at the same time knowing how critical it is for us to continue to produce and deliver this capability to our customers," he adds.
Lockheed has so far delivered over 600 F-35s, with the in-service fleet having accumulated more than 345,000 flight hours.
Recent shipments included a trio of F-35Bs for the UK, which brought the nation's fleet of the type to 21 examples. The short take-off and vertical landing assets arrived at the Royal Air Force's Marham base in Norfolk on 30 November, following a ferry flight from Fort Worth, Texas, conducted by 617 Sqn pilots.
Also speaking on 17 December, Lockheed Martin UK chief executive Peter Ruddock outlined the economic benefits of the nation's F-35 acquisition, with a KPMG study pegging this at £40.6 billion ($55.2 billion) gross value added between 2007 and 2038.
UK companies are responsible for producing 15% of every F-35 built by value, according to Lockheed, with major beneficiaries being BAE Systems and Rolls-Royce.
Ruddock believes the operational and industrial benefits of acquiring the F-35 mean that the UK's long-held programme of record requirement for the type could eventually be increased.
"I'm very confident that the UK in due course will probably buy more than 138," he says, adding that "the government hasn't stepped back" from the figure.
Lockheed says UK-operated F-35s have logged more than 8,500 flight hours to date, with 46 pilots and 610 maintainers having completed training.
"The F-35 is a critical element of the UK's national security and combat air strategy for decades to come," Callaghan says. "It is the only aircraft that can really meet the threat that is there today, as well as evolving threats."