Airbus is hoping to maintain momentum on the French-German-Spanish Future Combat Air System (FCAS) project in 2022, despite ongoing industrial wrangling and a period of political transition in Berlin.
"The last year has shown even more progress than we have seen since [its launch in] 2017," says Airbus Defence & Space chief executive Michael Schoellhorn. "We are about to successfully close on the demonstrator Phase 1B, and have successfully closed the concept study."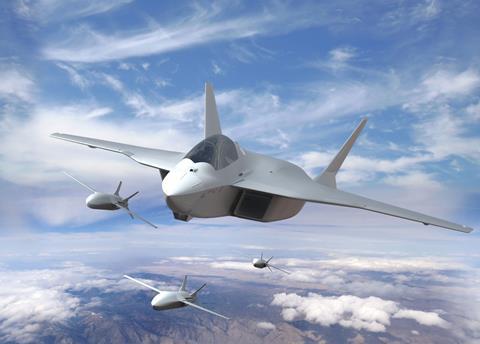 He notes: "Yes, it's a complex project, but if you look at what has happened since 2017, we're on a pretty good track.
"We are very eager to continue, and there is still quite some discussion going on," says Schoellhorn, who has led Airbus's defence unit since July 2021. "Some points still need to be tackled. We are still in exchanges with Dassault around the next-gen aircraft, [and] there are many things in the detail that need to be sorted out.
Referring to the business dynamic between Airbus and Dassault, he notes: "It is a complex coming together of two successful companies, with a very big importance for the decades to come. We all have agreed that we need to give it the due diligence and invest the time that it takes to really come to the conclusions that we need."
Schoellhorn points to the importance of the FCAS programme in enabling Europe to ensure sovereign control of key defence capabilities, plus its ability to create and sustain tens of thousands of highly-skilled jobs.
"No single nation in Europe can do something like this alone. This is why this joint effort is so important, and we will get it right," he says. "Our ability to remain credible as European home nations in foreign policy and security policy is hinging on projects like FCAS. If we want to protect our ability to defend our European way of life, we must not take these things for granted."
Schoellhorn is confident of receiving continued support for the FCAS effort from Germany's new coalition government, noting that the SPD party was involved in the decision to initiate the project. "I'm very confident that there's a lot of political support," he says.
Asked whether he believes there will be an eventual coming together of the parallel FCAS and UK-Italian-Swedish Tempest efforts, he comments: "Conventional wisdom would say in the end it will be difficult to have room for two such large programmes in Europe."
Meanwhile, Schoellhorn used the company's online Trade Media Briefing platform on 30 November to challenge the wording of a draft EU Taxonomy into environmental, social, and governance, which labels the defence industry as "socially harmful". He criticises this choice of phrase as serving to "stigmatise the defence industry".
"It is an utter mistake to play defence against sustainability," he says. "On the contrary, the ability to defend our values, assets and people is the bedrock of sustainability.
"Do we still have the willingness to defend what many of our people take for granted, or are we creating a culture that starts to put the military and industry into a corner and say 'sustainability is only what we can call green'?
"The one-sidedness of the discussion, and the fact that this takes place at the very heart of political Europe, in Brussels, is concerning," he says.