Fresh tensions have emerged between France and Germany over the planned development of a next-generation fighter aircraft in a project that also involves Spain.
Under the Future Combat Air System (FCAS, or SCAF) programme, France's Dassault will lead the development of the manned fighter, while on the German side Airbus Defence & Space is spearheading work on an unmanned remote carrier aircraft.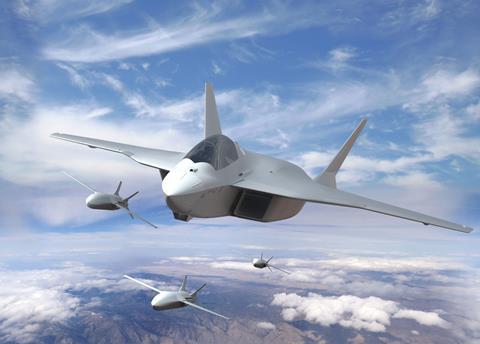 However, German union IG Metall has raised concerns that due to the workshare arrangement the country's technological know-how will be lost.
Causing particular concern is a French proposal that a single Dassault Rafale-based demonstrator aircraft should be built as a platform on which to mature new technologies.
Thomas Pretzl, chairman of the central works council for Airbus Defence & Space in Germany, cites the deep experience that Germany has in developing flight controls through involvement in the Panavia Tornado and Eurofighter programmes. "We would like to have our knowledge on this [FCAS] plane – and have our fair share," he says.
"Of course it is a trans-national programme, but the three nations need to work on equal terms."
German unionists have proposed that Berlin also create a demonstrator, in that case based on the Eurofighter.
Pretzl also raises the nagging worry that France will repeat its previous behaviour: Paris was involved in the early discussions in programmes which ultimately led to the Tornado and Eurofighter being produced, only to leave and pursue its own projects. "We are afraid that the same will happen here," he says.
With the UK already working on its own FCAS activity including the Tempest fighter alongside Italy and Sweden, France "bailing out" of the other European effort would leave Germany "with nothing", warns Pretzl.
Although German industry is leading the development of the remote carrier, Pretzl argues that the work is not on a par with that needed for the future fighter.
The precise workshare allotted to each nation was discussed by German Chancellor Angela Merkel and French President Emmanuel Macron at the 5 February Franco-German Security Council, which was held virtually due to the coronavirus pandemic.
Speaking at a joint press conference after the summit, Merkel said she is anxious that an agreement can be struck in order to bring it before the German parliament, particularly the finance committee, as soon as possible. But before that, she says: "we need to have finalised the sharing of tasks within this project".
Although it is under French leadership, "it is still necessary that the German partners can be at a satisfactory level against their French partners".
Macron said he was confident that an agreement would be struck "in the next 15 days" to allow the programme – plus that for a new joint main battle tank – to proceed.
Both leaders also reaffirmed their commitment to the Eurodrone project in conjunction with Italy and Spain. However, in recent days reports have emerged suggesting that Spain might not be able to participate due to budget constraints.