Qatar's first PC-24 light jet has emerged in its air force markings at Pilatus's Stans production site in Switzerland.
Photographed on 29 September, the twinjet carries the Qatar Emiri Air Force registration QA397, while a manufacturing information sheet attached to its fuselage shows it as production aircraft 247.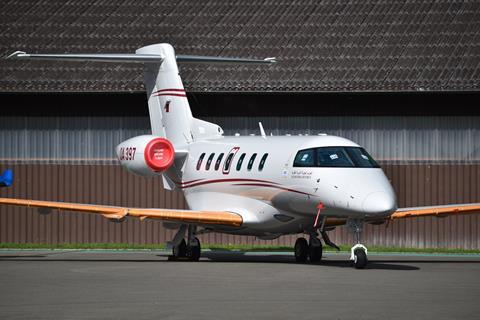 Pilatus announced a two-aircraft deal with Doha within its annual results report in April 2021, having secured the contract last November. The aircraft will be used for "pilot training and VIP transportation", it said.
Cirium fleets data indicates that the lead Williams International FJ44-4A-powered aircraft will be delivered in March 2022, with the second example to follow three months later.
Qatar will become the third military operator of the PC-24, with the Botswana Defence Force and Swiss air force each using lone examples in the VIP transport role.
Pilatus – which has previously supplied Qatar's air force with 24 PC-21 turboprop trainers – is also to deliver a five-year support package as part of the PC-24 acquisition.