The first instructors for the UK Royal Air Force's (RAF's) General Atomics Aeronautical Systems Protector RG1 remotely piloted air system (RPAS) fleet have begun simulator-based training in the USA.
"Instructor Operating Course [IOC] crews, comprising of a pilot, sensor operator, and mission intelligence controller, have been testing various scenarios" at the airframer's Grand Forks training site in North Dakota, the RAF says.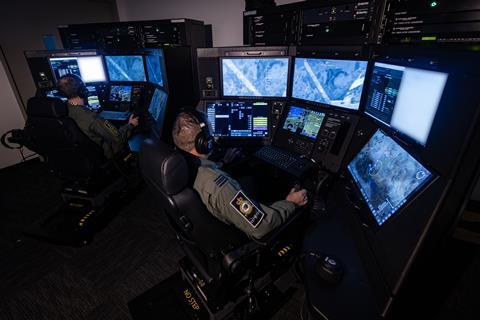 "The objective of this IOC [phase] is to create RAF-specific training material and mission scenarios for future Protector crews," it adds.
"Simulated missions include intelligence, surveillance and reconnaissance activity to find, fix and follow designated targets on the ground. Training evaluates the skills required to operate Protector and its equipment, including real-time exploitation of intelligence involving the Multi-Spectral Targeting System and synthetic aperture radar."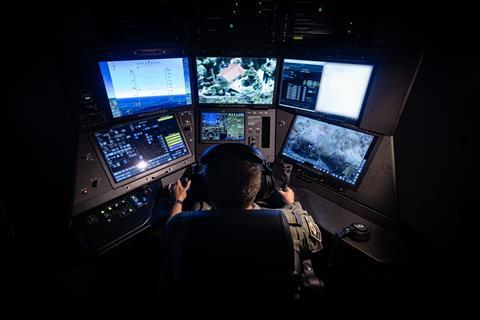 The activity involves personnel from the RAF's 54 Sqn ISTAR (intelligence, surveillance, target acquisition and reconnaissance) operational conversion unit, home based at Waddington in Lincolnshire.
Sixteen Protector air vehicles are on order for the UK, which will field the type as a replacement for its armed General Atomics Reapers.
The RAF says it will declare initial operating capability with eight RPAS at Waddington in late 2024. Unlike the service's in-use Reapers, the Protector will be certificated to fly in non-segregated airspace, with a maximum flight endurance of over 40h.
The RAF notes that its Waddington ISTAR hub will be "the site of launch and recovery to support domestic training, and mission command for overseas operations", and host an international training school for the armed type.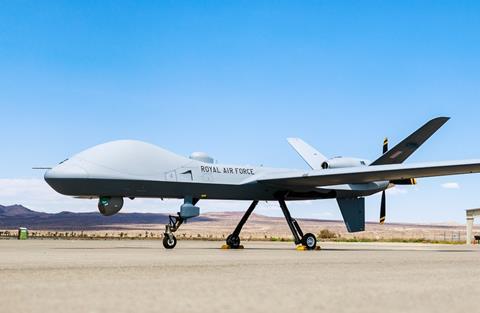 The UK accepted its first Protector air vehicle in October 2022, with the lead asset initially dedicated to supporting personnel training tasks in the USA.

Craig Hoyle joined Flight International in 2003, and has edited the now monthly title since 2015. He has reported on the UK, European and international military aviation sector for more than 25 years, and produces our annual World Air Forces directory.
View full Profile