A former Deer Jet-operated Boeing 737NG which will be modified into an E-7 Wedgetail airborne early warning (AEW) aircraft for the Royal Air Force (RAF) arrived at its UK conversion site earlier this month.
Currently registered as N946BC, the narrowbody arrived at the Birmingham airport facilities of STS Aviation Services on 7 January, following a 6h flight from Bangor, Maine, in the USA.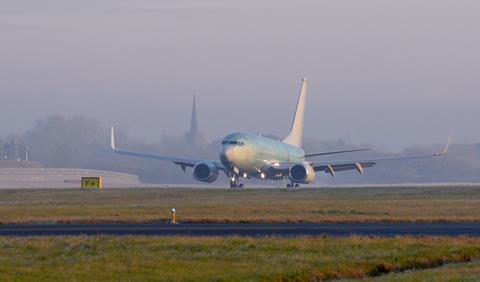 Cirium fleets data records the twinjet as having previously been operated in a 737-BBJ1 configuration, with 29 seats. First flown in June 2010, before undergoing conversion for VIP operations, it was used by Deer Jet under the registration B-5273 – via China's AVIC International Leasing – before being acquired by Boeing in June 2019.
Boeing Defence UK managing director Anna Keeling describes the milestone as "a major accomplishment".
"While hundreds of people throughout the UK and around the world have been working on this programme since the contract was signed, we now have the airframe that will become the RAF's first Wedgetail in the country," she notes.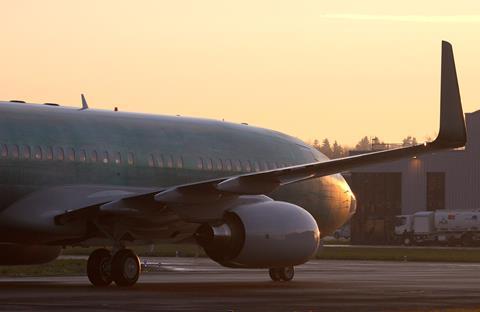 The other pre-owned asset scheduled to undergo conversion for the RAF was also originally ordered by Deer Jet. Now registered as N947BC and first flown in June 2011, the platform saw use with Deer Jet's sister VIP operators Hongkong Jet, and Business Aviation Services Guernsey, as well as Bermuda firm Longtail Aviation, Cirium fleet records show.
In addition to these two airframes, the UK will also field a trio of new-build 737-700s, to complete its E-7 fleet. Ordered via a £1.5 billion ($2 billion) acquisition to replace aged 707-based E-3D Sentry airborne warning and control system aircraft, the fleet will be based at RAF Lossiemouth in Scotland, alongside the RAF's 737NG-based P-8A Poseidon MRA1 maritime patrol aircraft.
UK Wedgetail AEW1 fleet deliveries are expected to occur in the 2023-2024 period.
Boeing last May named STS as its in-country conversion partner, and in mid-2020 delivered the first tooling and parts to support the work. This included delivering reinforced Section 46 fuselage sections, which are needed to accommodate the Wedgetail system's Northrop Grumman Multi-role Electronically Scanned Array radar.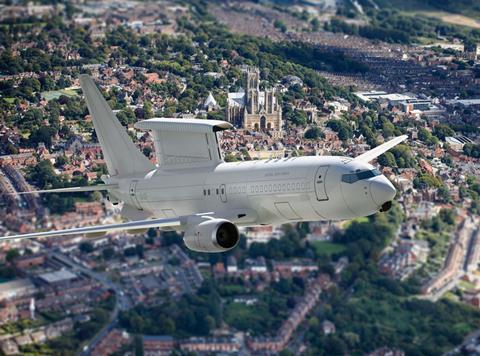 Once converted, the aircraft will accommodate 10 onboard operator workstations for airborne and maritime surveillance, plus battle management duties.
Boeing notes that UK personnel have been training with launch Wedgetail operator the Royal Australian Air Force since 2018 in support of the E-7 programme. Canberra has a six-strong fleet of the type, which it has used to support combat operations in Iraq.