Boeing's Defense, Space & Security unit continues to battle programme headwinds, with its second-quarter revenues having declined to just below $6.2 billion, from approaching $6.9 billion during the same period a year earlier. Orders were worth $2 billion.
The unit's operating margin, meanwhile, contracted from 13.9% ($958 million) in the second quarter of 2021 to just 1.1% ($71 million) in the latest reporting period.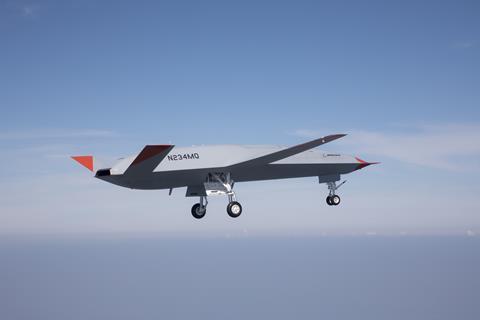 Detailing its operating performance, Boeing on 27 July said the defence unit's margin slump was "primarily driven by charges on fixed-price development programmes… as well as unfavourable performance on other programmes and lower volume on derivative aircraft programmes".
Speaking during an earnings call, chief financial officer Brian West said around $400 million in total charges were taken against fixed-price defence contracts during the quarter.
The MQ-25 Stingray unmanned tanker accounted for $147 million of this total, "primarily due to higher costs to meet certain technical requirements". A $93 million charge also was encountered on the Commercial Crew space programme, related to "launch manifest updates" and additional costs associated with the OFT-2 flight test of its Starliner spacecraft.
There also was "relatively small cost growth" on the T-7A Red Hawk advanced jet trainer, KC-46A Pegasus tanker and 747-8I-based VC-25B Air Force One fleet recapitalisation, "with no one programme impacting by more than about $50 million", West says. "The drivers were largely supply chain impact and inflation," he adds.
Those three programmes had caused cost over-runs worth a combined $1.1 billion during the first quarter of this year.
"We continue to work through hurdles on our fixed-price development programmes amidst a challenging macro-economic environment," chief executive David Calhoun wrote in a results-day message to employees.
Meanwhile, Boeing delivered 40 military aircraft during the three-month period, down three versus the same quarter in 2021. They included 19 AH-64 Apaches (13 remanufactured and six new-build examples), six CH-47 Chinooks (five new and one 'renewed'), four each of the F-15, F/A-18E/F Super Hornet and KC-46A Pegasus, plus three 737NG-based P-8A Poseidons.
Boeing says the defence unit had an order backlog worth $55 billion at the end of the second quarter, "of which 33% represents orders from customers outside the US".

Craig Hoyle joined Flight International in 2003, and has edited the now monthly title since 2015. He has reported on the UK, European and international military aviation sector for more than 25 years, and produces our annual World Air Forces directory.
View full Profile