American defence giant Lockheed Martin expects relatively flat sales in 2023 but is targeting 2024 for a return to growth.
Speaking to investors on 24 January, Lockheed chief executive James Taiclet described a "stronger than expected" finish to 2022, with 7% fourth-quarter year-on-year sales growth.
Still, executives predict relatively flat performance in the coming year.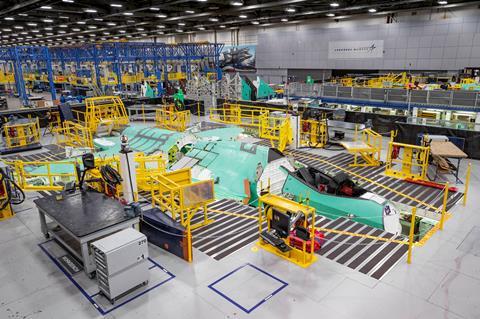 But Taiclet expects "return to sustained top-line growth in 2024", as supply chain headwinds diminish and revenue from new military programmes grows.
"Inflation is something that we evaluate all the time," says chief financial officer Jay Malave. He notes that while existing programmes have largely been shielded from rising prices through the use of firm-fixed price contracts, newer programmes are being impacted.
Malave adds that some customers and suppliers are reluctant to use price adjustment clauses to hedge against inflation, as doing so can lead to unexpected cost increases if prices continue the sharp increases seen in 2022.
Supply chain constraints, combined with higher costs on labour and materials, have impacted numerous major defence producers, whose programmes typically involve much lower production volumes than do commercial aerospace programmes.
Lockheed's notable products include F-35 Lightning II fifth-generation fighters, F-16 fourth-generation fighters, Sikorsky UH-60 Black Hawk helicopters and precision-guided munitions.
Executives say multiple factors will limit growth until 2024.
Malave says F-35 deliveries will slow in 2023 as production catches up with orders. Lockheed secured several major F-35 purchase commitments in 2022, including from Canada and Germany.
Single-digit declines in revenue from F-35 deliveries will be offset by more revenue from aircraft sustainment services as the global F-35 fleet approaches 900 aircraft.
Those sustainment programmes will include a major new F-35 upgrade package known as Technology Refresh 3 (TR-3). While the schedule for TR-3 is still being developed with the Pentagon, Taiclet says the package will deliver major improvements to F-35 pilot interface, as well as data processing speed and storage capacity needed to rapidly share information from the F-35's high-end sensors across the battlefield.
Lockheed has set an annual delivery target of 156 F-35s by 2025. The company produced 141 of the single-engined jets in 2022 – seven below its goal.
The miss is attributed to a flight pause initiated after the December crash of an F-35B during a turnover flight, which are conducted jointly with Lockheed and active-duty pilots before final delivery.
While little has been revealed about the cause of the crash, Taiclet indicated the issue lies with the F-35's Pratt & Whitney F135 engine. He says deliveries of the jet will resume once the Pentagon and its "propulsion supplier" complete a safety investigation.
Taiclet also reveals Lockheed has received "significant awards" under its umbrella of classified programmes, about which little is revealed, that will deliver strong revenue growth in 2024.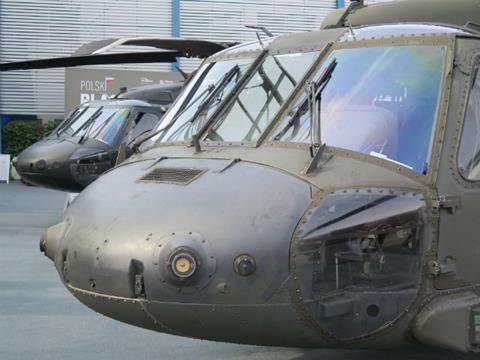 However, he notes those programmes are currently in low-rate initial production phases, which produce thinner margins and reduced delivery prices in the short term.
Also providing a boost to future growth is higher-than-expected defence funding in the USA.
The fiscal year 2023 Pentagon budget recently approved by Congress and the administration of President Joe Biden includes funding at or greater than Lockheed expected for Sikorsky UH-60s, CH-53K King Stallion heavy lift helicopters and HH-60W Jolly Green II Combat Rescue Helicopters, and for Lockheed C-130J cargo transports.
Taiclet says Lockheed's leadership team expects bipartisan support in Congress for a "robust" defence budget to persist in the coming years.
Overall, Lockheed values its product backlog at $150 billion, including $1.5 billion in new orders for precision munitions. Taiclet calls that a "strong demand signal" and positive sign for future growth.
Sikorsky recently lost to Textron subsidiary Bell a contract to supply the US Army's Future Long Range Assault Aircraft to replace UH-60s. But Lockheed has filed a formal challenge to the decision.
New orders for Black Hawks remain strong abroad, with Australia recently committing to acquire 40 new examples of the type, and at home, with the US Army recently indicating interest in expanding its UH-60 procurement contract by six years to include an additional 120 aircraft.
Lockheed's Sikorsky is a finalist for another new US Army helicopter programme – the Future Attack Reconnaissance Aircraft – to replace the retired Bell OH-58 Kiowa. A decision on that contract is expected in 2025.
Taiclet also cites "significant demand" for fourth-generation F-16 fighters from non-US buyers. Lockheed says it is "actively marketing" the multi-role fighter around the world, particularly to countries that may lack the requisite infrastructure to support F-35 operations.
Turkey is currently pursuing an acquisition of 40 new F-16s and Taiclet notes Lockheed is in talks with India over purchasing a localised version of the type known as the F-21.