Paris has begun the process of designing a replacement for its nuclear-powered aircraft carrier Charles de Gaulle, with industrial lead Naval Group saying its successor will be "the biggest warship France has ever built".
French President Emmanuel Macron on 8 December announced the launch of the Porte-Avions Nouvelle Generation project, which should deliver an operational replacement for the navy's current flagship in 2038.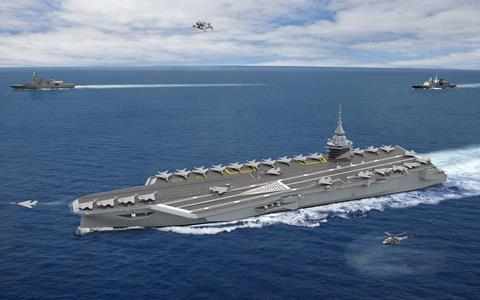 France's defence ministry says the vessel should have a displacement of around 75,000t and be approximately 300m (984ft) long. It will deploy an air wing including up to 30 examples of a New Generation Fighter (NGF) now being developed by France, Germany and Spain, it adds.
A two-year preliminary design study activity will be followed by detailed design studies running until late 2025, ahead of a contract for full development and construction.
"This project will help develop jobs in the defence industrial and technological base and ensure the continuity of our skills in the current health and economic crisis," says Naval Group chief executive Pierre Eric Pommellet. Its major industrial partners on the project are Chantiers de l'Atlantique, Dassault Aviation and TechnicAtome.
To meet the entry into service objective, Paris expects the new ship to commence trials by 2036. It will be powered by two nuclear reactors, and also feature new-generation launch and recovery equipment including electromagnetic catapults.
Naval Group notes that nuclear propulsion has "proven reliability and safety" aboard Charles de Gaulle, and ensures "considerable autonomy at sea and a great flexibility of use".
The defence ministry says it is too early to decide whether the navy should acquire one or two replacement ships, but notes: "two aircraft carriers guarantee to always have one on alert".
France's current lone aircraft carrier entered operational use in 2001. The navy embarks Dassault Rafale fighters and Northrop Grumman E-2C Hawkeye airborne early warning and control system aircraft, along with support helicopters.
Concept images of a future carrier released by Naval Group show the vessel carrying a full load of NGF combat aircraft, and a nearer-term operational mix of the type alongside Rafales, Hawkeyes and NH Industries NH90 helicopters.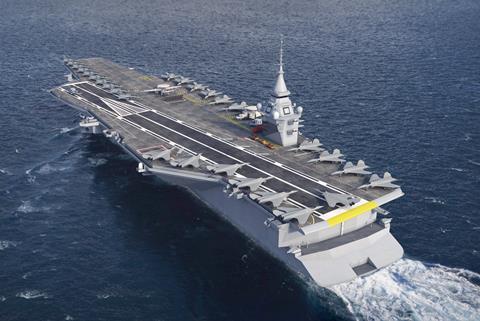 The subject of a tri-national development effort as part of their Future Combat Air System (FCAS) programme, the stealthy NGF – also referred to as SCAF by France – is expected to be a larger airframe than the Rafale.
"The fighter and the systems we develop will have to be compatible with navy applications, including to land on an aircraft carrier," Bruno Fichefeux, head of FCAS for Airbus Defence & Space, said on 9 December. "Finding the right trade-off will be our challenge, and we are strongly dedicated there, with Dassault Aviation being the prime partner.
"A navy application has an impact on structure and [landing approach] speed, but maybe it can also help increase the performance by making the fighter able to fly slow and fast," Fichefeux says.
"I am convinced that with the combined experience of Dassault Aviation and Airbus that we will find the proper trade-off to answer these requirements."