French defence minister Florence Parly has signed a contract covering the production of 12 replacement Dassault Rafale fighters for the French air force, less than one week after Greece finalised an 18-aircraft acquisition including a dozen secondhand jets.
Signed with Dassault chief executive Eric Trappier at the company's Argonay plant on 29 January, the deal will lead to aircraft being delivered during 2025 in the type's latest F3R production standard.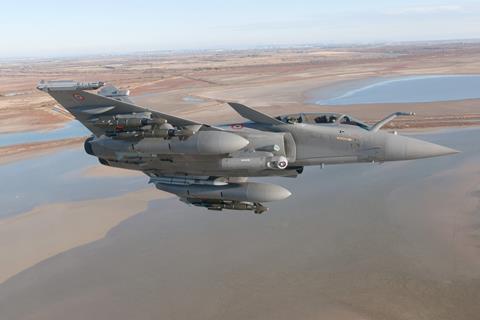 "This order will allow the French forces' Rafale fleet to be renewed: the replacement of secondhand planes and sensors purchased by Greece will allow the [air force] to have new equipment at the latest standards, therefore at the best capacity level," says France's DGA defence procurement agency.
Describing Athens' 25 January order as "historic", Parly notes: "In the current economic context, it is all the more essential to win export contracts. Because at Dassault, we know better than anyone, our defence industry works on two legs: the defence of our country and the defence of our economy. And for the first to work, it is vital that the second remains robust."
Parly notes that a production rate of one Rafale per month supports 7,000 jobs at Dassault and through its supply chain.
"The [French air force] contract is a great satisfaction for Dassault Aviation, Thales, Safran and the 500 French companies involved in the programme, in the particularly difficult conditions facing our aeronautics sector in the context of the Covid crisis," Trappier says.
The DGA notes that the new order for F3R-standard fighters will ensure that the French military has a 129-strong Rafale fleet by the nation's 2019-2025 Military Programming Law period.
Paris is due to introduce further Rafales between 2027 and 2030, via a planned fifth production tranche. France expects to continue operations with the type until around 2070, Parly says.
Separately, the Indian air force welcomed its latest three Rafales on 27 January, following a delivery flight conducted from Istres air base in France. The transfer included in-flight refuelling support from a United Arab Emirates air force Airbus Defence & Space A330 multi-role tanker transport.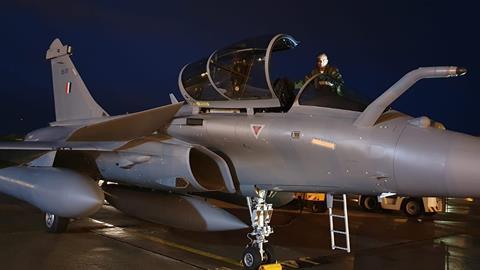 Cirium fleets data shows that the service has now received 11 of the multi-role type, from a 36-unit order signed in 2016.
On 26 January, air force Rafales for the first time participated in India's annual Republic Day celebrations. New Delhi received its first batch of five fighters last July.