A French general has underlined that the New Generation Fighter (NGF) being developed by France, Germany and Spain will rely heavily on stealth and manoeuvrability, even though it will be far more than a traditional fighter aircraft.
The NGF is a core component of the three countries' Future Combat Air System (FCAS), which is being developed by Dassault Aviation, Airbus Defence & Space, and Indra, according to Major General Jean-Luc Moritz, head of the FCAS programme for the French air force.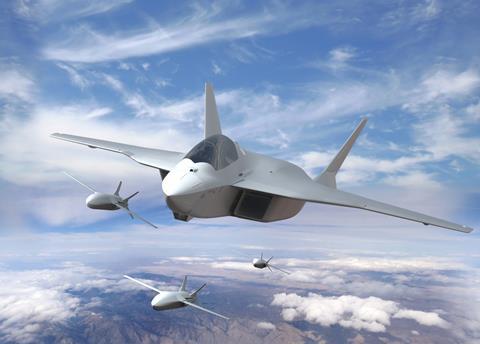 The system envisaged also includes airborne early warning and control aircraft, as well as 'remote carriers': attritible aircraft that will collaborate with the manned platform.
"The system must be able to exchange large amounts of data, develop disruptive tactics using artificial intelligence and perhaps quantum calculation, remain discrete, and strike by surprise and with precision," says Moritz.
Moritz made the remarks in The Aerospace Advantage podcast hosted by The Mitchell Institute for Aerospace Studies.
He stresses that stealth characteristics and the ability to communicate without being detected will be at a premium. He contends that stealth will remain very important despite technologies such as low frequency radars designed to detect stealth aircraft.
"The NGF is above all a fighter aircraft, and as such manoeuvrability will be particularly useful for surprising, fighting, and surviving," adds Mortiz.
He stresses that manoeuvrability is not for dogfighting other aircraft, but about survivability: specifically evading missiles. As for weapons, hypersonic munitions will play a role, and FCAS will seek to saturate targets, including using decoys to flush out the enemy.
Remote carriers, which Moritz describes as the "risk takers", are essential to the overall system, performing reconnaissance and other functions. To ensure sufficient numbers for high-end contingencies, remote carriers must be relatively low cost.
Knitting the entire system together will be the combat cloud network, which provides high-speed, resilient connectivity, and guarantees that reliable, up-to-date data is shared.
"That is what will change our tactics and allow us to confuse the opponent," says Moritz.
The pilot in the NGF will remain key, particularly in contested airspace where satellite communications are compromised. Using artificial intelligence, the pilot will be able to perform a command and control function over the remote carriers, which themselves operate autonomously.
Currently in its Phase 1B technology development stage, the European FCAS programme seeks to field a suite of advanced capabilities from 2040.