The front and aft sections of the first Boeing T-7A Red Hawk advanced jet trainer have been joined, which the company says highlights the benefits of the type's digital design.
Boeing says the process of joining the two sections at its St. Louis production facility in Missouri took less than 30 minutes, which is "95% less time than traditional splices".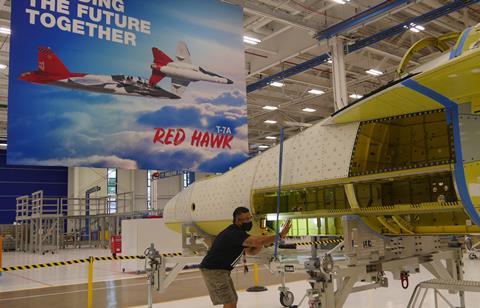 "This moment marks a key stage in the evolution of the T-7A Red Hawk," says Chuck Dabundo, vice-president and programme manager of Boeing T-7 programmes.
"Employing digitally advanced manufacturing and build techniques developed by Boeing over the past two decades, we are bringing this trainer to future pilots sooner than ever before possible and with greater quality."
Saab, Boeng's partner in the T-7A, built the aft fuselage in Linkoping, Sweden. Boeing produced the forward section in the USA.
The aircraft is the first engineering and manufacturing development aircraft to be joined, and will be used for static tests.
The US Air Force (USAF) will obtain 351 T-7As to replace the Northrop T-38. Boeing also sees a promising international market for the aircraft.
In February, Boeing announced that the first T-7A had entered production. The first delivery to the USAF is expected in 2023, with initial operating capability in 2024.