Germany's BDLI aerospace industry association has warned that the country is in danger of losing vital combat aircraft manufacturing jobs and skills if a 10-year production gap is allowed to develop.
At present, production of the Eurofighter in Germany is due to end in 2030 with the final delivery of a Tranche 4 aircraft to the Luftwaffe.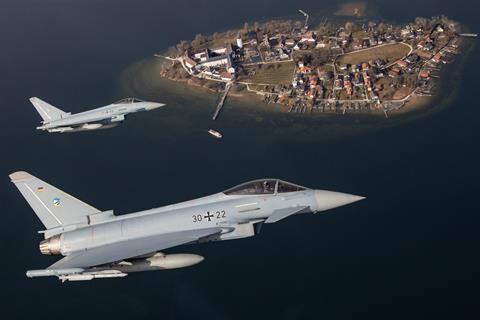 Although Berlin is a partner in the Future Combat Air System (FCAS) next-generation fighter programme alongside France and Spain, full-rate production is unlikely to commence until the 2040s.
"Since the FCAS is scheduled to be operational from 2040, there is currently a gap of 10 years without orders for the domestic industry," says the BDLI.
It warns that without an order for Tranche 5 Eurofighters for the Luftwaffe "there would be a risk of the end of military fighter aircraft construction in Germany – and with it a corresponding loss of jobs, tax revenue and, in particular, of cutting-edge technologies and skills".
According to an analysis carried out by consultancy PWC – commissioned by the BDLI – Eurofighter production supports 25,000 jobs in Germany at 120 different suppliers, as well as generating significant tax revenue for the government.
BDLI president Michael Schoellhorn – who is also chief executive of Eurofighter partner company Airbus Defence & Space – says if the country wishes to maintain its manufacturing capabilities "then we must quickly build an industrial bridge to the future".
"In concrete terms, this means we need the approval for the further development of the Eurofighter during this [German] legislative period."
He argues that such a move would ensure the Eurofighter programme remains "at the cutting edge of technology in the long term" and would "create important technological foundations for the next generation of air combat platforms".
"This is associated with a fundamental decision by the federal government on additional procurement of Eurofighters based on this new technology."
French combat aircraft champion Dassault Aviation is the airframe lead for the New Generation Fighter being developed under FCAS; Airbus Defence & Space, meanwhile, is heading the development of its uncrewed "remote carrier" aircraft.
Although the Eurofighter programme has latterly gained follow-on orders from its partner nations, including Germany and Spain, export deals have remained harder to come by, with a 24-unit order by Qatar in 2017 the most recent.
Indeed, a commitment from Saudi Arabia for a second batch of Typhoons has been blocked by the German parliament. Its air force currently has 72 of the type in service, acquired via the UK.
In the meantime, Dassault has continued to rack up customers for its competing Rafale, at 30 June holding 123 export orders for the combat jet, with another 44 aircraft still to add from India and Indonesia.
Dassault is also investing substantial research and development funding in the Rafale to implement the future F5 standard, for the French air force – a move widely seen as creating a bridge to FCAS.

Dominic Perry is deputy editor of Flight International but also contributes extensively to flightglobal.com. Although specialising in the coverage of the helicopter industry, he has written on most topics in aerospace – be they commercial, defence or business aviation. In addition, there has been an increasing focus on the decarbonisation of the industry and zero-emission flight initiatives.
View full Profile