Germany could become the first overseas customer to receive the Block II model of Boeing's CH-47F Chinook if acquisition timelines stay on track.
Berlin earlier this month joined the UK as a customer for the Block II variant of Boeing's tandem-rotor type, selecting 60 CH-47Fs for its long-running heavy transport helicopter requirement.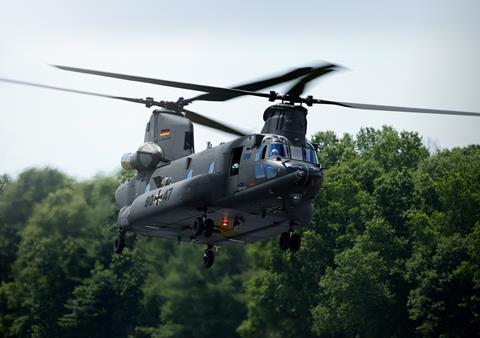 Mark Cherry, vice-president of vertical lift at Boeing, said during a media briefing at the ILA Berlin air show on 22 June that Germany was offered both Block I and Block II models, settling on the latter.
Details of the exact configuration to be supplied are still being discussed, says Cherry, with the only confirmed detail the inclusion of an air-to-air refuelling capability.
"That's why we need to spend the time over the next four to five months to really understand the requirements," says Cherry.
Boeing hopes to make its final offer to Berlin in late-2022, potentially leading to German parliamentary approval for the €5.1 billion ($5.4 billion) acquisition in early 2023.
Assuming that timeline holds, then deliveries could begin in 2026, likely putting Germany ahead of the UK in receiving its Block II helicopters.
To be acquired via the USA's Foreign Military Sales mechanism, the Chinooks will replace the German air force's fleet of elderly Sikorsky CH-53G/GA/GS helicopters.
Germany selected the CH-47F over a rival offer from Sikorsky of the CH-53K King Stallion it has developed for the US Marine Corps.
Boeing's offer to Germany also includes local industrial participation from a consortium of companies including Airbus Helicopters, Honeywell, Lufthansa Technik and Rolls-Royce Deutschland.
Dr Wolfgang Schoder, chief executive of Airbus Helicopters in Germany, describes the Chinook as the "best heavy transport helicopter on the market", noting that it was "natural and logical" to "combine forces" with Boeing given its industrial presence in Germany and strong links with the nation's air force.
"We didn't want to enter into an adventure with a development programme," he adds in reference to the CH-53K.
Details of how the maintenance activity will be shared out between partners and locations is still to be defined, Schoder adds; overhaul of the CH-53G fleet takes place at the Airbus Helicopters site in Donauworth.
Cherry says the "last opportunity" for operators to select the Block I variant will come later this year. "We have several international customers who are considering being the last buyers," he says.
Improvements implemented under Block II include an improved drivetrain, redesigned fuel tanks, and a strengthened fuselage to boost the helicopter's lift capability, raising payload to 9,980kg (22,000lb) from 9,000kg previously.
It will also be ready to accept a future engine upgrade should the US Army choose to proceed. Honeywell in December 2021 began a two-year test effort for an uprated version of the T55 powerplant that currently equips the Chinook.

Dominic Perry is deputy editor of Flight International but also contributes extensively to flightglobal.com. Although specialising in the coverage of the helicopter industry, he has written on most topics in aerospace – be they commercial, defence or business aviation. In addition, there has been an increasing focus on the decarbonisation of the industry and zero-emission flight initiatives.
View full Profile