Germany has confirmed that it still intends to proceed with the future maritime patrol aircraft (MPA) it is developing with France under the MAWS programme, insisting that the Boeing P-8A Poseidons it will receive from late 2024 are an "interim solution".
Berlin's commitment to the MAWS – or Maritime Airborne Warfare System – effort had been questioned after the decision in June 2021 to order five P-8As. And recent indications that a further seven Poseidons will be procured only reinforce the impression of waning interest in the Franco-German project.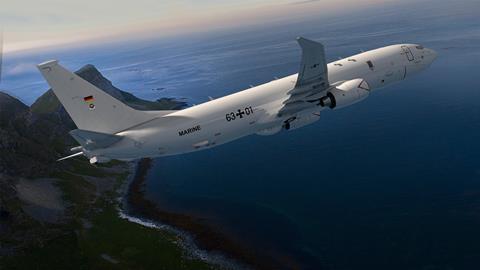 But speaking at the ILA Berlin air show on 23 June, the chief of the German navy's air arm, Captain Thorsten Bobzin, said that it remained behind the MAWS project.
He says the P-8As have been purchased to "bridge the operational gap between the [end of Lockheed] P-3 operation and the future Maritime Airborne Warfare System we are developing with France."
Deliveries of the Poseidons to Germany are scheduled to begin in October 2024 and run until the following year. Initial operational capability is targeted for 2026 and it aims "to become fully operational as quickly as possible thereafter".
"We will phase out the P-3C at the end of 2025 and that doesn't give us much leeway with the P-8," adds Bobzin.
MAWS is a joint project between Dassault Aviation and Airbus to deliver a long-term successor from 2035 to France's Dassault Atlantique 2 and Germany's P-3 MPA fleets.
Dassault in July 2021 said it was ready to propose an alternative to the French navy based on its developmental Falcon 10X business jet should the country decide to exit the MAWS programme.